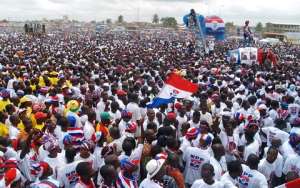 Last week the National Executive Committee of the NPP gave clearance to all 28 Aspiring Parliamentary Candidates in the nine orphan constituencies of the NPP in the Northern Region to contest the September 28th primaries.
Qualifying or clearing all the APCs to contest among other things meant that the party wanted to promote the spirit of competitiveness and unity in the Northern Region.
The Voiceless Media has in its possession report of the outcome of vetting in the Northern Region especially and can report that some of the APCs knew next to nothing about the structures of the very party they wanted to represent in Parliament.
Some could not express themselves eloquently at the vetting and were symbols of shivering and stammering.
A section of the Aspiring Parliamentary Candidates could not account for how long they nursed the very constituencies they were struggling to represent at elections.
Some of them however, performed excellently. They had answers to the questions and were also able to outline their winning strategies for their constituencies ahead of election 2020.
Of the 28, cleared to contest, 9 in an atmosphere of strictness would have been disqualified. We know them and can report that though they have been cleared to contest the primaries they can't win in the first place so nothing to fear about their clearance.
We also noticed during our constituency polls that the level of insults amongst the contestants is deeply excruciating.
Most of the aspirants are ready for victory but they are not ready for defeat. What it means is that they are likely not to conduct themselves well after the primaries.
They will either sabotage the winners or they will fold their arms and stay away from the constituency campaigns when they would have been needed.
The NPP in the Northern Region should as a matter of urgency put up a reconciliation and unity committee to go into action immediately after the primaries.
This will help in peace building in the constituencies after the primaries and ahead of election 2020.
Some of the Regional Executives per The Voiceless Media checks have never stayed in the Region for one month since they were elected.
They are busily doing their businesses than the business of the party.
The NPP as a party should not shy away from reprimanding such officers of the party in the Region.
We will publish their names and the duration they stayed in the Region after their elections.
Election 2020, will have to be fought with all seriousness to retain power. We need officers of the party who are available to do party works but not absentee party leaders.
We currently have nine Parliamentary seats in the Northern Region. Those seats were won when the party was in opposition.
If the nine seats can not be increased then it should not be decreased.
The battle of 2020 will have unity as its oxygen across all constituencies and the NPP must work towards this.
A word to the wise...