NALAG Trains Female Aspirants For 2019 District Level Elections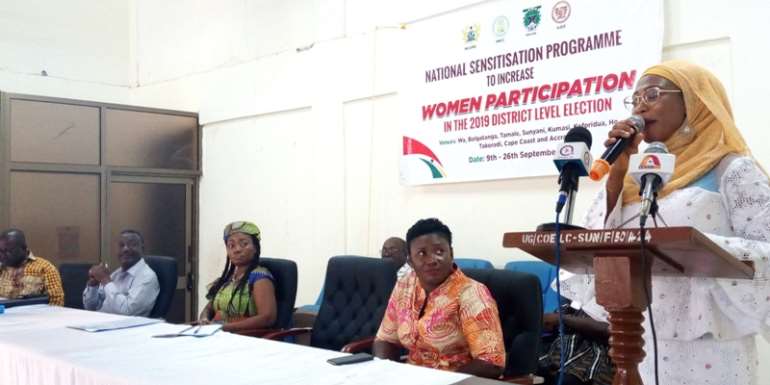 A sensitisation programme has been held in Sunyani for female aspirants in the Bono, Ahafo and Bono East Regions for the upcoming 2019 District Level Elections.
The overall goal was to build the capacity of women contestants to enhance their chances of winning elections so as to increase women participation in governance. It was also to equip and empower aspirants with skills to package vote winning messages to the electorates, train aspirants in effective public speaking and provide a platform for aspirants to share their expressions on campaign strategies.
Research has shown that since 1988, the participation of women in local government is less than 10% at the national level, though women constitute 51% of Ghana's population, hence the need to whip up their interest and equip them in changing the status quo for the fullfilment of the Sustainable Development Goal (SDG - 5).
Current statistics indicate that out of 9000 Assembly Members, only 645 are females representing 7.1%, out of the 260 Presiding Members, only 8 are females representing 3%, out of the 260 MM/DCEs, only 40 are females representing 15%, and out of the 275 Parliamentarians, only 36 are women which represent 13%.
It has been identified that some inhibitions such as entrenched cultural practices and misconceptions, lack of resources, lack of political will and ineffective campaign methods prevent women from such contests. Women are also faced with the challenges of shyness and lack of courage as well as fear of intimidation and insults, verbal attacks, blackmail and name calling, which prevent them from accepting appointments and putting themselves forward for leadership roles.
The Resource Persons such as a Local Government Expert at the Institute of Local Government Studies Fred Oduro and the Head of Research for NALAG Sheriff Amarh trained aspirants on how to prepare to become suitable candidates, how to manage their campaigns, effective presentation techniques & skills, public speaking, practical campaign tools, manifesto & messaging, fund raising, advocacy & lobbying. They were also schooled on the Local Government system & decentralisation, the roles & responsibilities of an Assembly Member.
The Regional Director for the Electoral Commission Francis Nunoo took them through the electoral process, the dos and don'ts, and how to meet the criteria, suitability and qualification as well as the Commission's scope of operations.
In a keynote address delivered on her behalf, the Bono Regional Minister Evelyn Ama Kumi Richardson urged women to take inspiration from President Akufo-Addo's commitment in the appointment of women occupying various positions including her.
She further charged them to take interest and encourage electorates to vote ''YES'' in the upcoming referendum on the election of MM/DCE and asked to avail themselves to serve as Chief Executives.
Other speakers at the programme including a Vice President of NALAG Evelyn Boateng bemoaned the valuable contributions made by women in managerial skills and incorruptible leadership, asserting that gone were the days when women were known for only the kitchen. They, unanimously, however, cautioned women against their own actions and inactions, to some extent, vote against their own colleague women, which gives rise to the notion that ''women are their own enemies''.
The speakers called for support of all forms for females to be involved in decision making. The MCE for Sagnarigu and Women Caucus rep of NALAG Hajia Mariam Iddrisu urged women leaders to form female groups in their areas and groom some selected young ones for future. She further urged them to speak out during public fora including Assembly meetings.
The programme was organised by the National Association of Local Authority of Ghana (NALAG) in collaboration with the Ministry of Local Government & Rural Development, Inter-Ministerial Coordinating Council, Institute of Local Government Studies.