Young Ghanaian Activist Awarded "Green Ticket" For UN Climate Summit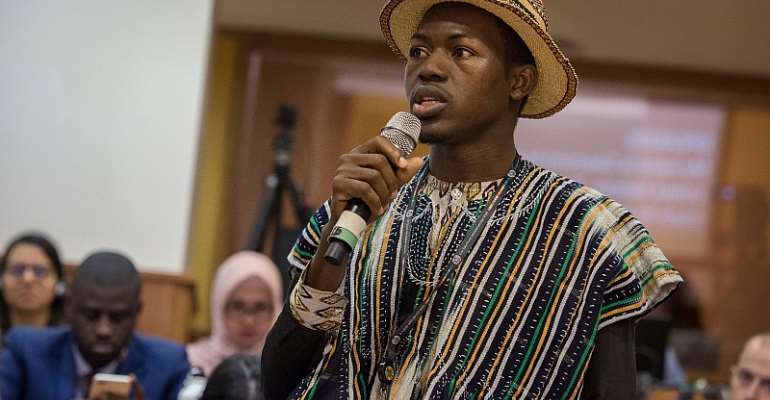 ACCRA, 15 September — Desmond Alugnoa, a Climate and Youth Empowerment activist has been awarded a "Green Ticket" to attend the first-ever United Nations Youth Climate Summit on Saturday, September 21 at the United Nations Headquarters in New York.
The historic event will be a platform for young leaders who are driving climate actions to showcase their solutions at the United Nations and to meaningfully engage with decision-makers on the defining issue of our time. It will be the largest gathering of young climate leaders at the United Nations in history.
Mr. Alugnoa, is one of the 100 young people from across the globe given a "Green Ticket" by the United Nations to attend the Summit after demonstrating commitment to addressing the climate crisis in Ghana and displaying leadership in advancing solutions.
The Youth Climate Summit will feature a full-day of programming that brings together young activists, innovators, entrepreneurs, and change-makers who are committed to combating climate change at the pace and scale needed to meet the challenge. It will be action oriented, intergenerational, and inclusive, with equal representation of young leaders from all walks of life.
"Youth are showing us the way on climate action," said Special Envoy for the 2019 Climate Action Summit, Luis Alfonso de Alba. "I am eager for young climate leaders from all over the world to take their rightful place on the global stage and participate in this historic moment."
Desmond Alugnoa, co-founder Green Africa Youth Organization (GAYO), an NGO dedicated to providing solutions to pressing environmental issues through research and environmental entrepreneurship - is a young Ghanaian climate and youth empowerment advocate with focus on community development, environmental conservation and climate adaptation.
As a projects Coordinator for GAYO in Ghana, Desmond played a key role in creating employment for women and youth in the area of Rural Innovation and Solid Waste Management whilst creating awareness on climate change and adaptation strategies among students and farmers.
Usman Ibrahim Khalilulahi | Ghana