The Sour in South Africa: A Slur on Pan-Africanism, Nkrumaism and Garveyism.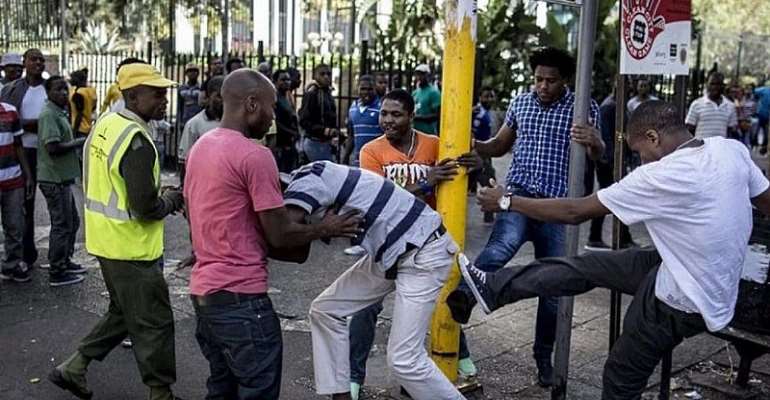 Not long ago, in the 1940s through to the 90s, South Africans were bleeding inside the walls of apartheid. It was so sickening to the extent that her sister countries couldn't watch. Out of tenterhooks and love for South Africans, they did all they could to stand with them against such racial segregation and racial injustice. Donations from individuals and states were made, songs were composed, refuge was given to those who feared for their lives, masses gave in their voices to ignite the freedom of South Africans and alas, the freedom was secured; Nelson Mandela smiled; the continent of Africa rejoiced. Victory for South Africa became victory for all of Africa.
Fast forward to this present day and we are questioning-what happened? The past few days have greeted us with xenophobic attacks by some South Africans with support from some leaders of theirs. Foreigners have been maimed, some murdered and their shops looted. They claim there are no jobs for them; they claim foreigners are taking over their country; they claim all wrongs are perpetrated by black foreigners.
Honestly speaking, if the ancestors of the African soil were cognizant of what South Africans will become and be doing towards their fellow sisters of liberation, they would have left them to the oppressor. South Africans should be ashamed of such continuous heinous actions of theirs.
They've diverted from the path of rectitude and infiltrated their minds with corrupt hatred for black fellows. This is really real but sad. Isn't this a disgrace to their nation? They act as if they are saints operating their businesses only in their country. They are acting as if their citizens all reside in South Africa. This is sad.
The indomitable will of Nelson Mandela, the untiring perseverance of Nigeria, Ghana and voice of other sister countries have been forgotten. It is sad how the once oppressed but delivered people are now the oppressors of others' freedom and right.
I believe Nelson Mandela is crying as he watches South Africans engage in xenophobic attacks on black foreigners. The government of South Africa must diligently and swiftly act to end this heinous and shameful attitude of its people.
Condemnation of such action days after its occurrence isn't enough. Until measures are put in place to safeguard the lives of black foreigners there, press conferences by South African government officials will just be a false modesty and a pretentious act. The world is watching in a quizzotical manner and the resounding question is: Where is UBUNTU?