Ghanaian Media Professionals Must Stop Selling Their Consciences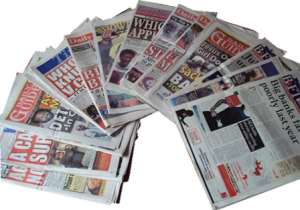 Someone pointed out a nauseating Seidu Adongo story, by The Herald, earlier today. My response was: "Typical. How ignorant can one get? Surprising though it might be to the Ghanaian media professionals, who have sold their souls and consciences to the very corrupt and ruthless Seidu Adongo, the methods that that monster used in setting up the Heritage Bank, would have swiftly led to his arrest, prosecution and being handed a long jail sentence to serve, had they been employed in either the UK or the U.S. Ditto strongly-worded public condemnation by regulators, and widespread public opprobrium, for him in society. The sod."
And, as an old wag I know said to me: "Kofi, is it not amazing that the geniuses at The Herald, ignore the bush-telegraph toli-story that Seidu Adongo's stealth maneuvering, in pursuit of his dream of setting up a Kweku-Ananse-piggy-bank, cloaked as a licensed universal retail bank, eventually enabled him to secretly fund his pet projects designed to enable him send his net worth to stratospheric heights - precisely because he bought influence in the Bank of Ghana, during the Mahama-era?" Hmmm, eyeasem oooo.
"Furthermore, Kofi, it doesn't take a degree in rocket science to work out the fact that having sweet-talked his way to receiving Gh 90 million from his Stanbic Bank cronies (using the financial equivalent of sleight-of-hand tactics: transfer reference number 000000553230), Adongo then got the people whose influence he had bought at the BoG, to allow part of that Gh90 million (Ghc35 million) to fund payment of rent, equipment, computer systems etc., etc., for the bank's branch network, in exchange for promised shares from the selfsame Adongo, four years after the setting up of the Heritage Bank."
Finally, naturally, there are those who will say recounting unsubstantiated bush-telegraph stories condemning Seidu Adongo is grossly unfair. Be that as it may, in my humble opinion, Ghanaian media professionals must stop selling their consciences so - to do propaganda spinning and shameless PR for the wealthy crooks who lined up to participate in the brutal gang-rape of Mother Ghana, during the anything-goes-Mahama-era. Haaba.