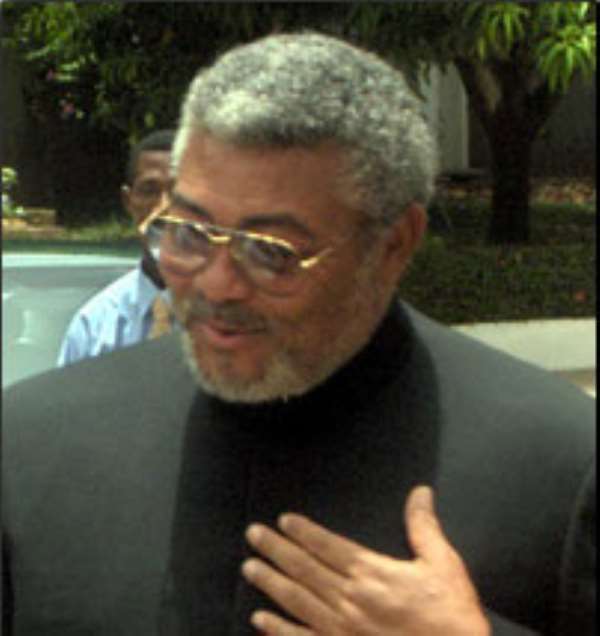 On the face of it, it is very laudable that former President Jerry John Rawlings has been making a good use of his time in retirement by engaging in charitable activities, although I did not, particularly, see any charitability in the recent gift of a refurbished SUV that he reportedly presented to a former Member of Parliament from the ticket of the main opposition National Democratic Congress (NDC). The retired politician in question, a woman, may have fallen on hard times and thus been aptly deemed to be deserving of the gift presented to her by the former President. But, of course, she was definitely not your typical underprivileged or impoverished Ghanaian citizen. I am not hereby necessarily implying that the recipient of the aforesaid SUV gift did not deserve the same. Rather, what I am saying here is that making a public spectacle or a media event out of this otherwise kindly and even laudable gesture was not the least bit warranted. Not by any stretch of the imagination. It actually made the former President appear to only care about people who, like himself, played in the major political leagues.
Now, as to the fact of whether President Addo Dankwa Akufo-Addo's Chief-of-Staff's allegedly regular contributions to the Rawlings Charitable Foundation might have influenced or conspicuously dumbed down the former strongman's urge or capacity for criticizing some official ills that may be going on among some operatives of the Akufo-Addo Administration, it is very difficult to say (See "Only 'Wicked' Kufuor Refused to Give Me Goodies – Rawlings" MyNewsGh.com / Ghanaweb.com 8/31/19). Nevertheless, one thing is clear for certain – and it is the fact that on the whole, the country is doing much better than it had during the four-and-half years that Mr. John Dramani Mahama held the reins of governance, and was in the routine and cavalier habit of telling Ghanaian citizens who had been economically paralyzed by Dumsor, or the perennially erratic supply of energy, that they were suffering economic dire straits because they were not creative and inventive enough to be able to effectively work around Dumsor which, by the way, Mr. Mahama did not envisage to be the least bit of any big deal or a difficult problem for anybody to worry about.
Whatever corruption-related problems the Akufo-Addo Administration may be dealing with or beset by largely entail the dodgy shenanigans of former Mahama cabinet appointees like Mr. Mahama Ayariga and his cronies, who are alleged to have used their privileged official positions to fleece the nation by refusing to pay their fair share of taxes. As well, some of these Mahama executive robber-barons, including the Parliamentary Minority Leader, Mr. Haruna Iddrisu, have been strenuously flailing about and kicking and screaming against the imperative need for them to be promptly brought to justice for allegedly and criminally drawing double salaries.
On the part of the Akufo-Addo Administration itself, every effort is clearly being made, albeit rather much too slowly, to bring appointees found to have run afoul of justice to book. I, however, vehemently disagree with the basis upon which Chairman Rawlings' alleged characterization of former President John Agyekum-Kufuor as "a wicked man" seems to be predicated. Which appears to be that Mr. Kufuor's government was the only one that had not significantly contributed to the charity work of the Founding-Father of the National Democratic Congress. To be certain, from his own past and present pronouncements, had Mr. Rawlings not resorted to charity work, a patently humanitarian act that he most probably learned from former US President Mr. James "Jimmy" Carter, Mr. Rawlings would very likely have viciously lit into any other former President of Ghana who might presently have been engaged in the sort of charity work that he himself is presently engaged in as an unconscionable mega-thief who had absolutely no business proudly parading himself as a veritable Santa Claus.
On the critical subject of corruption, anybody who has taken a studious look at the largely NDC-crafted 1992 Republican Constitution, especially vis-à-vis the perks and privileges granted retiring presidents and their associates or minions, can only logically and soberly reach one legitimate conclusion. And that conclusion, of course, is the stark fact that Ghana's Fourth-Republican Constitution is the veritable handicraft of pathological robber-barons and godforsaken "thuggocrats."
*Visit my blog at: kwameokoampaahoofe.wordpress.com Ghanaffairs
By Kwame Okoampa-Ahoofe, Jr., PhD
English Department, SUNY-Nassau
Garden City, New York
August 31, 2019
E-mail: [email protected]