Obesity, Reality Of The American Dream?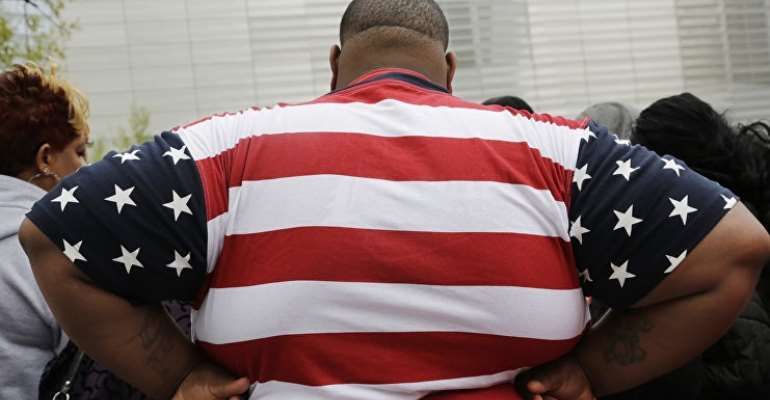 One of the paradoxes of modern global capitalism is that more than 800 million people in the world do not have enough food, while about 700 million people, including 100 million children, are obese.
These two numbers are not necessarily directly related, however, a significant proportion of the world's starving people live in states torn apart by internal conflicts or lacking normal working governments.
Obesity is a condition characterized by an abnormal accumulation of fat in the body in the form of adipose tissue. It is the result of excessive nutrition combined with a very limited physical activity, to which genetic factors are also added.
This serious health problem occurs when over time, the body absorbs more calories than it burns. Obesity and overweight increase the risk of contracting diabetes, developing cardiovascular diseases, hypertension, gallstones, hypercholesterolemia, respiratory diseases, osteoarthritis, gout, and cancer.
An uncontrolled, rapid increase in obesity can slow down or even reverse the process of a significant improvement in health and life expectancy, which has been observed in many countries for several decades.
A report released raises the alarm about rising levels of acute hunger. About 124 million people in 51 countries were affected by severe food insecurity in 2017 - 11 million more than in the previous year. This is reported by the new edition of the Global Report on Food Crises.
The report defines acute food insecurity as a level of hunger so severe that it represents a direct threat to people's lives or livelihoods. The worsening of the situation is largely attributable to the outbreak or escalation of conflicts and instability in countries such as Myanmar, north-eastern Nigeria, the Democratic Republic of the Congo, South Sudan, and Yemen.
Prolonged drought conditions have instead caused the succession of poor harvests in countries already affected by high levels of food insecurity and malnutrition in eastern and southern Africa.
Conflicts and climate change remain the main factors behind serious food insecurity in 18 countries - 15 of them in Africa and the Middle East. Conflicts are the main cause of most cases of acute food insecurity in the world, representing 60 percent of the total, 74 million people.
At the same time, the obesity epidemic has hit a much wider range of countries, both developed and most developing. Although there is a certain association between obesity and poverty within countries.
However, it should be noted that the level of obesity in wealthy countries such as the United States, Britain, and Canada is one of the highest in the world.
According to recent shocking estimates by the US Centers for Disease Control and Prevention, 40% of all Americans are obese, with obesity being defined as a body mass index of 30 or higher.
This number includes 20.6% of all American teenagers, from12 to 19 years old.
According to the CDC, the average weight of an American woman today is higher than the average weight of an American man in 1960 (166 pounds, or 75 kg). While many are hungry or dying of hunger, many wealthy countries are destroying themselves with food.
Inequality in relation to overweight and obesity is especially pronounced among women, especially, those with a low level of education are obese two to three times more often than highly educated women.
Preventing Obesity: Here are some useful tips for a correct and varied food style.
Preventing obesity and being overweight is possible, starting with a healthy and balanced diet. It is necessary to limit sugars and fats thus, avoiding as much as possible quick foods and sugary or sweet drinks.
Increase consumption of vegetables, legumes, and whole grains and limit excessive alcohol consumption to a glass of wine per meal.
The need to do exercise helps to a correct diet. There is no need to do a marathon a week: 30 minutes a day of brisk walking, cycling, and aerobic activity are all you need to stay healthy and keep your weight under control.