Finally An Action At Buduburam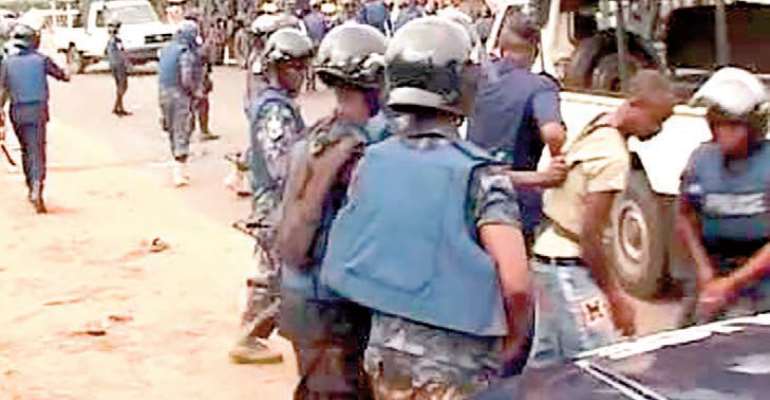 Finally, there has been a security response to the nonsense which eclipsed the notorious Liberia Camp at Buduburam in the Central Region almost indefinitely.
Lawlessness remained a disturbing feature at the aforementioned location bordering the Greater Accra Region with tales of security failure resonating within the enclave or 'no-man's-land', as it were.
Being close to the Greater Accra Region but administratively in the Central Region, it serves the convenience of criminals operating in both regions.
There is no better description of the state of lawlessness in the area than the picture painted by the chief of the town soon after the murder of the two police officers, which was indeed a bad story.
That the chief and his people continued to endure to live in the worrying state without calling the attention of the authorities and for that matter the local police points to one thing – hopelessness.
Is it the case of the chief having tried to no avail to have the police deal with the deteriorating security situation in the area or simply not alerting the security agents?
Be it as it may, the police would have definitely observed the state of lawlessness at the so-called Liberia Camp but unable to deal with it for reasons best known to the command. It cannot be acceptable that the local police did not know the state of insecurity in the location under review. The intelligence unit within the division should have an up-to-date situation report of areas under its jurisdiction, especially given the nature of Buduburam and Kasoa.
But for the recent murders, the rule of criminals would have persisted for much longer in the dreaded area.
It is relieving to learn that the security operation would not be restricted to Accra alone but would be a nationwide crackdown. A similar action has already taken place in the Bono Region.
Our excitement about the feeling that at last the criminals at Buduburam would no longer have a field day is marred by the fear that the exercise would not be sustained.
Criminals can only be dealt with effectively when such attacks are consistent. Without this element, the criminals will definitely return emboldened to carry out more daring criminalities.
Besides sustainability, it is our opinion that the police especially must enhance their intelligence gathering role. Sitting down and waiting for crime to be committed before screaming 'fall in' to the men and women to pick their weapons from the armoury is an outmoded policing tactic.
There is no doubt that most of the breakthroughs in crime in the country have been through informant-support intelligence.
The need to enhance the co-operation with reliable informants and the public cannot be overlooked. Sufficient financial rewards must be made available to informants and this should be paid without the usual delay when such information pays and leads to the apprehension of criminals. Congratulations though troops.