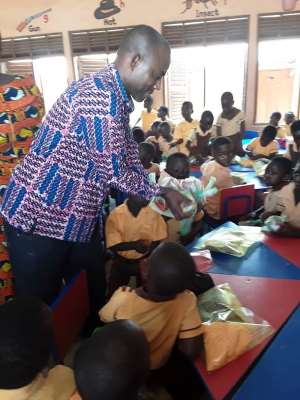 The District Chief Executive for Obuasi East District Assembly, Madam Faustina Amissah has disclosed that the Assembly is working around the clock to properly furnish all KGs in the District with toilet facilities to enhance teaching and learning for beginners.
Hon. Amissah was speaking at a tour of selected schools in the District to mark this year's edition of 'My first day at School'.
The DCE lauded teachers and pupils of the six visited schools; Independence cluster of Schools A, B, and C at Kwabrafoso and Boete School Complex A, B and C for reporting on time and in their numbers on reopening day.
Many items ranging from school uniforms, Pencils and sharpeners, crayons, erasers, my clear bags, fruit juice, biscuits, and many others were presented to serve as motivation for beginners.
She passed on words of thoughts and encouragement to both students and teachers and urged them to be punctual and also include seriousness in their daily works.
She then pleaded with the general public to rally strongly behind the government to bring positive transformation into the educational sector.
The District Educational Director, Madam Leticia Obeng praised government and the Assembly for the massive increase in items presented this year, she said the items were meant for only pupils who reported on resumption day but there were many left-over to be given to absentees in subsequent days.
She said the gesture would go a long way to improve the level of class attendance as well as performance of pupils.
The Member of Parliament of the Obuasi East Constituency, Dr. Patrick Boakye-Yiadom who was also part of the entourage revealed to the media at Independence School that the School Feeding Program has just been extended to the school and it's expected to boost enrollment.