Nigerians Revenge By Burning Down South African MTN Company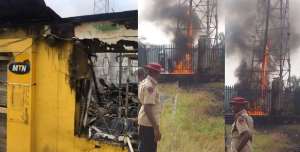 South Africa's MTN company in the city of Ibadan in flames
The Nigerian Foreign Ministry announced to evacuate citizens of the country from the Republic of South Africa after the attacks on foreign citizens.
The Foreign Office took that decision after a recent xenophobic attack in South Africa against foreign nationals, including Nigerians. The owner of Air Peace Airlines then volunteered to send an airplane to evacuate Nigerians.
According to the owner, the airline expressed his willingness to send a plane to South Africa from Friday, September 6, while the transportation of citizens will be free.
On Wednesday, amid growing tensions between the two countries, Nigeria recalled its ambassador to the Republic of South Africa.
Between Sunday and Monday, law enforcement officers in South Africa arrested at least 100 people. They plundered stores held by foreigners, mostly Nigerians in Johannesburg and the surrounding areas of Gauteng.
Protests began after a taxi driver was killed by an alleged Nigerian drug dealer.
On Tuesday in Nigeria, retaliatory pogroms began against South African enterprises. In the city of Ibadan in the south-west of the country, unidentified persons set fire to the office of MTN, the South African telecommunications company, the largest mobile operator in Nigeria and the region.
As noted by iAfrikan, on Wednesday MTN announced the closure of all service centers, shops, and offices in Nigeria.