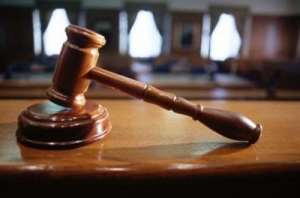 The Paramount chiefs of Lolobi and Akpafu Traditional areas have all sued the Electoral Commission (EC) over what they term as "unlawful deletion" of their areas from the Hohoe Municipality.
According to Nana Akoto Masakyi III and Nana Tetteh- Attu IV, the EC in laying the districts electoral areas and designation of units regulations, 2019 before Parliament placed Lolobi and Akpafu under a newly created Jasikan district contrary to the 1992 constitution and Local Governance Act 2016.
They argue that the Electoral Commission has no power to create districts.
The chiefs also want the tribunal to restrain the EC from forcibly removing Lolobi and Akpafu traditional areas from the Hohoe Municipality.
"The defendant's action of placing Lolobi and Akpafu under the new Jasikan District is in bad faith because it is calculated to undermine steps being taken by the chiefs and people of Akpafu and Lolobi traditional areas to reverse their unlawful inclusion in the Oti Region."

"The defendant is also aware of the fact that the chiefs and people of Lolobi and Akpafu did not petition the President/Commission to be included in the new region. On the contrary, the chiefs and people of Akpafu have consistently maintained (since 1945) that they did not want to be part of the Jasikan/Buem District or Constituency nor Oti Region."
They are therefore seeking a declaration that "the defendant [Electoral Commission] has no power to create a district in Ghana"
Residents of Akpafu Odomi in the Hohoe Municipality boycotted the referendum that endorsed the creation of the Oti Region.
The chiefs have never been in favour of joining the new region if it meant being separated from the Hohoe municipality.
The community also vowed not to even engage with the Justice Brobbey Commission during the consultations on the new regions.
The community was to be part of the proposed Oti Region which was carved out of Volta Region.
In protest against their inclusion into the proposed region, residents of Akpafu Odomi refused to take part in the limited voter registration exercise and even chased away Electoral Commission staff.
—citinewsroom