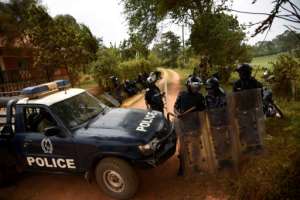 Recently, there have been several attacks on members of the Ghana Police Service. In recent memory the attacks started when a commercial bus driver and his assistant decided to exchange blows with a police officer. It seems that the attacks have culminated into direct shooting of police officers, leading to at least five recorded deaths of police officers.
CAUSES OF THE ATTACKS
It can be said without a shred of doubt that some of the killings, such as the shooting of a female police officer at a police barrier in Tamale, are just wanton acts of criminality.
Some others, such as the attack on the police officer by the commercial bus driver and his assistant, may have been provoked by the high-handedness of the police officer they assaulted.
Yet others, such as the two shootings at Kasoa, may be the culmination of long-lasting attrition between the victims and the people who did the shooting.
Whatever the reasons, we believe that this situation cannot be allowed to persist.
POLICY OPTIONS GOING FORWARD
In reaction to the shootings, the Vice President of Ghana, Dr. Mahamudu Bawumia, has said that the government was going to provide the police with bulletproof vests and guns when they are on duty checking for recalcitrant drivers.
In further reaction, the acting Inspector General of Police said that all officers of the Police Motor Traffic and Transport Department (MTTD) across the country will now be armed in a new move by the Ghana Police Administration to ensure the protection of its personnel who have recently come under attack.
The Swift Institute for Public Policy Options believes that these initial interventions are well-intentioned. However, they may fail to address the problem at hand, therefore requiring further interventions all implemented together to achieve the common aim, which is to make police operations safer, for both the police, and civilians.
The Swift Institute for Public Policy Options therefore proposes the following additional measures to those proposed by the authorities;
1. A complete retraining of all existing police personnel on modern standards of policing, particularly with regard to policing within a democratic dispensation.
Rationale; Police to civilian relationship in Ghana continues to be marked by a high degree of high-handedness and mistrust, which must be dissipated, since a police officer out of uniform or off duty is also a civilian.
2. The Ghana Police Service should conduct annual fitness tests for all personnel as a necessity before they can be declared as fit for active duty.
Rationale; in a regime where criminals are becoming more sophisticated and violent, the men and women of the Service must be able to meet their adversaries in terms of fitness.
3. All police stations should be fitted with shooting ranges and gyms.
Rationale; Police personnel train with guns only once in their career, that is at the Police Training School. This makes it unsafe for them to handle guns, leading to regular reports of police shooting civilians dead, or inadequacy of response when the police come under shooting attack.
4. Each police officer going on duty should be issued with a shoulder-mounted radio communications device instead of the handheld communication equipment.
Rationale; this will enable officers under attack to contact the nearest police officer or station in real time as the attack is taking place. It would also allow them to put out all points bulletins about wanted vehicles, as well as alerts on injuries, whilst keeping two hands on their guns.
5. Each police officer going on operation or duty out of a police post or station should be issued with a body-mounted outward facing video camera, with audio capacity as well as time recording capabilities.
Rationale; this would provide video, audio and time-linked evidence on exactly what happened during the operation. It would provide prime evidence on what happened when incidents happen, and who is to blame.
6. All police vehicles should be configured with the latest computer and communications gear, linked to the database of the Driver, Vehicle and Licensing Authority (DVLA), to give real time information on licenses and vehicle documentation.
Rationale; this would give the police the capacity to trace errant drivers without necessarily engaging in high speed chases.
7. Acquisition of fitted police bicycles for community policing
Rationale; the peddle bicycles would be less expensive to maintain, ease police mobility over short distances and make the police more accessible to the communities.
8. The Police Professional Standards Unit (PIPS) should be established and extended to all police jurisdictions and made more accessible to members of the general public.
Rationale; this would provide a means of immediate grievance reporting available to members of the public, relieving them off the need to assume a confrontational stance with the police.
9. The government should immediately put in measures to link government hospitals as well as the National Ambulance Service to all police operational jurisdictions.
Rationale; this would ensure that people wounded in police operations including police officers receive timely medical attention.
The Swift Institute for Public Policy Options believes that if these and other options on the table are implemented, they would go a long way towards protecting police and civilians lives in the future.
Signed
Kenneth Kuranchie
Founder
ABOUT US:
The Swift Institute for Public Policy Options was founded in early 2019 by Mr. Kenneth Kwabena Agyei Kuranchie, author, journalist, businessman and political actor to discover sustainable alternative public policy options and initiatives to combat some of Ghana's enduring social, economic and political problems. It is located at Afua Owusua House, behind Old Peace FM, Kumbaya Hotel Down. Email; [email protected]
Address: P. O. Box 284, Mile 7, Accra. Office Location: Afua Owusuaa House, Behind Old Peace Fm, Near Kumbaya Hotel Dome –Accra. GPS Address: GE362-6399.
Tel:0302-437-092. E-mail:[email protected]
Founder: Kenneth Kwabena Agyei Kuranchie