Only 12.8% of Ghanaians educated beyond JSS level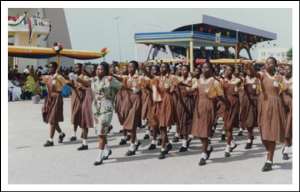 Accra, Feb. 22, GNA - Professor Kwesi Yankah, Dean of the Faculty of Arts, University of Ghana, Legon on Tuesday said it was alarming to observe that the cumulative percentage of Ghanaians, who have had education beyond JSS level was only 12.8.
He said it was equally worrying to note that among the adult population of 15 years and over, 42.1 per cent were totally illiterate. Prof. Yankah said, that called for more vigorous steps to encourage both children and adults to access the Free Compulsory Universal Basic Education (FCUBE) and informal education programmes respectively. He made the call on the second day of the three-day 38th J. B. Danquah Memorial Lecture series, which was under the broad theme: "Education, Literacy and Governance; A linguistic inquiry into Ghana's burgeoning democracy".
Prof. Yankah noted that functional literacy was necessary for the development of the individual and the country as a whole, saying that, it gave one greater access to higher income, health care, better nutrition and greater social and political power.
He, however, argued that much as functional literacy was important, it should be considered desirable and not necessarily a prerequisite in political representation.
Speaking on the topic, Krobo Edusei and the Paradigm of Street Wisdom in Contemporary Governance, Prof. Yankah noted that though Krobo Edusei for instance, had little formal education and was limited in the English language proficiency, he symbolized the resilience of the ordinary man in governance and leadership.
"The significance of Edusei in Ghana's political history, was his huge success as a politician, legislator and member of the executive in Dr. Kwame Nkrumah's CPP government, despite his modest educational background," he said.
Prof. Yankah said even though Krobo Edusei was the least educated among Nkrumah's ministers, he was known for his wit, high sense of humour, pedestrian logic, indigenous wisdom and was outspoken, the most popular and controversial.
"Krobo Edusei, a one time Parliamentarian, proved his understanding of national policy issues with his ability to domesticate complex political issues to the understanding and appreciation of the illiterate masses," he said.
Prof. Yankah said several people like Krobo Edusei had featured in Ghana's political history in the past and some continued to feature now, adding that, there should be a state mechanism that would enable such persons to participate more effectively in contemporary governance. He mentioned one D.C. Kwame Kwakye, former District Chief Executive of Akim Oda in the CPP era and one Madam Abena Akyea, an ordinary market woman and member of the 1991 Consultative Assembly, who had no education but made significant contributions to the 1992 constitution. "All those people were given the chance in spite of their academic limitations and they proved themselves worthy of the role given them," he said.
Prof. Yankah said it was erroneous for one's comprehension and miscomprehension of vital national issues to be linked to literacy of illiteracy, as several personalities in Ghana's political history had proved that literacy and proficiency in the English language was not equal to common sense.
He noted that contemporary political parties like the CPP and the United Gold Coast Convention (UGCC), continued to be formed along the literacy/illiteracy divide, saying that, CPP focused on the illiterate masses at the grass roots, whiles UGCC pride themselves with the nucleus of the professional elite.
Prof. Yankah said in more recent Ghanaian political history, the CPP, PNDC and the NDC were typical examples of personalities, who had thrived most in governments espousing grassroots ideologies and street wisdom.
He reiterated the call for political intervention integrating the use of Ghanaian languages at the higher national decision-making levels to deepen grassroots participation and ensure that the opinion of the vocal and literate minority were not imposed on the deprived majority. Prof. Yankah said in order to deal with the technical vocabulary in governance, language institutions in the country should be resourced and retooled to embark on lexical innovation, which would inform translation processes in parliament and other national forums.
"But mere translation in national forums are not enough. Parliament and other national bodies should ensure that their members are constantly and routinely briefed and educated on various issues through in-house seminars on issues considered technical," he said. He also urged Members of Parliament to maintain constant interaction with the electorate on burning issues to ensure better understanding. Prof. Ivan Adae Mensah, who presided, called for the intensification of girl-child education, saying, the daughters of Krobo Edusei and DC Kwame Kwakye reached very high in the academic lather, even though their fathers did not.
The lecture was attended by ministers of state, MPs, member of the diplomatic corps, traditional authority, corporate executives and people from all walks of life, who often laughed their guts out, as the lecturer made occasional humorous references to words and phrases coined in English and Twi by DC Kwakye, as well as street-wise statements made by Krobo Edusei.