Protest And Riots In British Parliament: Uprising Before Their Five Weeks Compulsory Leave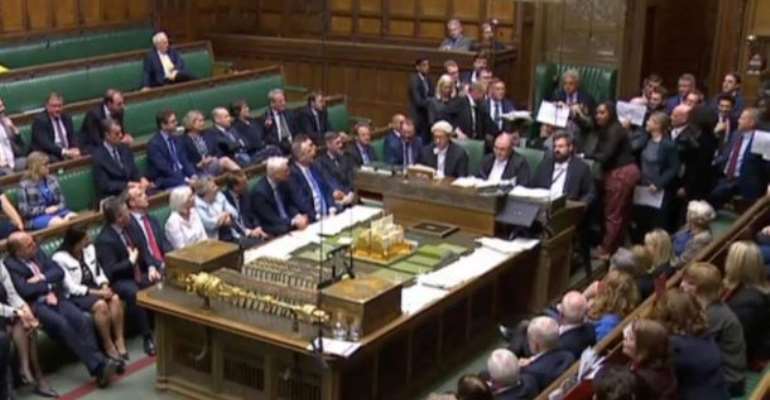 The British Parliament pauses - forcibly. Before the MEPs said goodbye for five weeks, they showed in Westminster how emotional the fight against the No-Deal-Brexit has become.
Actually, the British are known for their polite restraint. Emotionality is not necessarily one of the traits they are said to possess. In the fight for the Brexit, however, the emotions always boil up. Now - just before the Prime Minister sent Parliament on a forced break - there were tumultuous scenes.
After Boris Johnson had to suffer his next defeat on the way of Great Britain from the European Union with a renewed rejection of new elections by the parliament, the time has come. Speaker of Parliament John Bercow has to start the closing ceremony. That, however, does not meet with approval from parliamentarians. Banners are held up in the air. They say 'silenced' on them. Opposition members chant in the direction of the government faction "Shame on you".
But that is not all: in a scuffle, the speaker of parliament is apparently to be prevented from rising. He reacts calmly as usual. After the small rebellion can be resolved, the banners remain in the air. MEPs recall the British virtue of courtesy and return to the agenda.
MEPs use all possible means to resist Johnson's course
What triggered the unusually violent scenes? A short review: Boris Johnson, Prime Minister successor to Theresa May, wants the Brexit on October 31. With or without a deal. He is suspected of using any means at all. Also the dis-empowerment of parliament in the form of a forced break, which was very convenient for him.
The deputies of both parties, however, did not let this sit on their heads and, with the help of John Bercow, spokesman for the House of Commons, who announced his resignation on Monday evening, passed a law aimed at preventing the no-deal resignation. Johnson wanted new elections and failed. Showdown: Monday evening, 9 September 2019.
Once again the parliament rejects Johnson's request for new elections. Before his desired date of resignation, there will definitely be no new elections in Great Britain. Because the parliament is now forced to pause for five weeks. How the Brexit chaos will continue is currently unclear.
The parliament will meet again in mid-October, immediately followed by another Brexit summit in Brussels. If no agreement for an agreement is reached at this summit, Johnson is to ask for a further extension of the withdrawal period at Parliament's request. He wants to prevent this at all costs and is currently looking for ways to circumvent the new no-deal law.
Francis Tawiah (Duisburg - Germany)