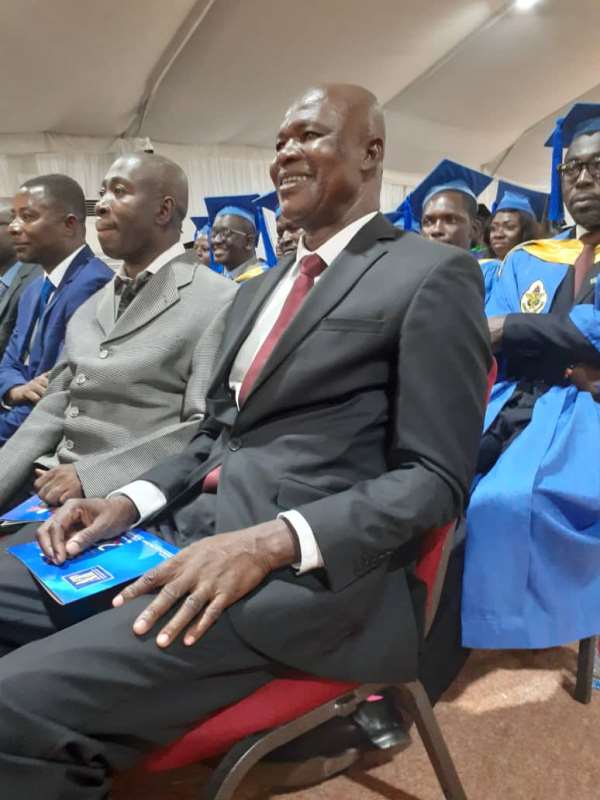 A former Director-General of the Ghana Education Service (GES), Mr. Jacob Aaworb-Nang Maabobr Kor, has grabbed a Doctorate degree Ph.D. in Education from the Open University of Malaysia/ Accra Institute of Technology (AIT) at ATTC, ACCRA.
Mr. Jacob Aaworb-Nang Maabobr Kor pursued Ph.D program and was awarded the Doctorate Degree last week.
It would be recalled that he was appointed GES Director-General, in 2015 during the term of former President John Dramani Mahama.
Born on September 21, 1959, Jacob Aaworb-Nang Maabobr Kor, popularly known as Jacob Kor, comes from Nandom in the Upper West Region and is married with three children.

He attended Baamwon and Pufio Local Authority Basic schools after which he entered Nandom Secondary School for his G.C.E. 'O' Level certificate and went ahead to obtain a three-year Post-Secondary Education Certificate 'A' from Wesley College of Education in Kumasi in 1980.
He studied privately for his G.C.E. 'A' Level from 1979 to 1982 and entered the University of Cape Coast for a bachelor's degree in Education and Diploma in Geography from 1984 to 1988. He holds a Master of Education degree in Management from the University of Cape Coast and is waiting for his Doctor of Philosophy (Ph.D.) degree in Education by the Open University of Malaysia.
Mr. Kor taught at Holy Child Training College in Takoradi, Obuasi Christ the King Catholic Secondary School and Akrokerri Training College. He was a principal for Mount Mary Training College, Somanya. Additionally, he has been a Director in the Ahafo-Ano North District, and Curriculum Research and Development Division (CRDD) of the GES.

He has authored books such as Life Skills for senior high schools (1998), Education Studies for Students in Teacher Training Colleges in the New Millennium (2000) and ICT Practicals for Practitioners (2010). He was a co-author of the publication, "Strategic Planning in Education: A Case Study of Ashanti Regional Education Directorate" in 2011.
He has also been a trustee to the Adansi West District GNAT, Publicity Secretary to Pax Romana I.M.C.S. and an Assistant Secretary to the Knight of Saint John International. He is a marriage counsellor as well.
Mr. Kor has participated in and presented several papers at conferences and workshops held in countries such as Namibia, France, Rwanda, Burkina Faso, The Gambia, Singapore, Chicago, USA, United Kingdom, and Kenya. Until his appointment as acting Director-General, he was the Central Regional Director of Education.