Thomas Kusi Boafo Says Mahama Flagstaff House Was an Auto Dealership – Part 2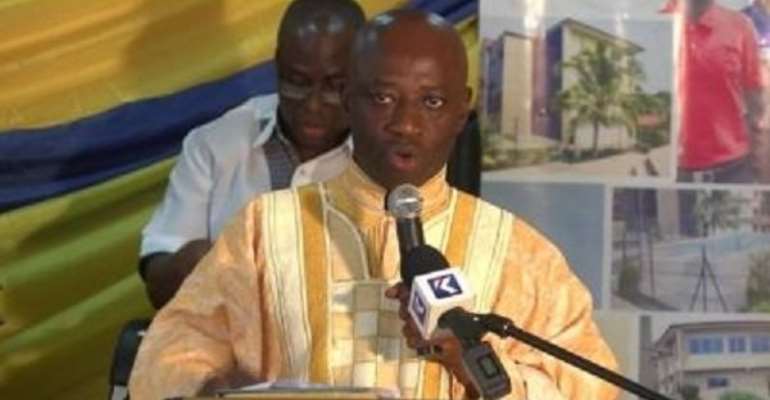 It is very interesting to hear the NDC's Builsa-South Member of Parliament cynically complain about the unprecedently high spate of fraud exposés under the watch of President Addo Dankwa Akufo-Addo, which Dr. Clement Abasinaab Apaak claims to be "jamming up" his brain, when one also reckons the fact that even as the substantive President of the Sovereign Democratic Republic of Ghana, Mr. John Dramani Dramani Mahama, for whom Dr. Apaak served as a Presidential Staffer, did little to absolutely nothing about the environmentally destructive predatory activities of small-scale illegal mining, especially in the Akufo-Addo home turf of the Eastern Region and, in particular, the Akyem-Abuakwa Traditional Area, where the deleterious impact of Galamsey was at its very worst in the country.
Instead, Mr. Mahama would contemptuously thumb his nose at The Okyenhene, Osagyefo Amoatia Ofori-Panyin, II, and the members of the Okyeman Council, brazenly upfront. He would also add insult to injury by calling Kyebi, the traditional seat of Akyem-Abuakwa, "The Galamsey Capital of Ghana." In sum, anybody who would voluntarily consent to working as a Presidential Staffer for an unconscionable nation-wrecker like former President Mahama cannot credibly pretend to be self-righteous about perceived corruption under the watch of the far more politically responsible and results-achieving President Addo Dankwa Akufo-Addo. On the latter count must also be underscored the fact that Mr. Mahama has spent most of the years since he was democratically ousted from power doggedly and shamelessly promoting the environmentally predatory and wantonly destructive activities of Galamsey, especially in the northern-half of the country, on the cynical grounds that these Galamseyers have no other viable alternatives for making a living and therefore ought to be allowed to lay the country's potable waterbodies and pristine forestry resources to waste.
And, isn't it interesting? We never heard Dr. Apaak telling anybody that such grossly irresponsible rhetoric on the part of his former boss ever "jammed up" his brain (See "1D 1F Turn One Day One Fraud Under Akufo-Addo – Apaak" Modernghana.com 9/7/19). If any Fourth-Republican Ghanaian leader deserves to be called a fraud, that leader definitely is none other than the now Candidate John Dramani Mahama, the man who rode on the crest of retrieving Mr. Alfred Agbesi Woyome's mega-loot but did absolutely nothing to recover the same, once he had been afforded the mandate by Ghanaian voters. Indeed, Mr. Mahama would actually shortly turn around and rudely tell his electors that they had absolutely no right to criticize his abjectly poor job performance because they had never been elected to occupy the august seat of the Presidency.
I hope Ghanaians never forget this most unprecedented insult to their intelligence, even as they head for the polling booth on December 7, 2020. The Builsa-South's NDC-MP would also do better to apprise his constituents and the nation at large of his former boss' record on the preservation of our national forestry resources and the environment in general, now that he has the temerity to smugly accuse the Akufo-Addo-led government of the New Patriotic Party (NPP) of sporting an abysmally poor record on the preservation of the environment, in particular in the matter of the illegal felling of rosewood, an endangered arboreal species. And yes, like both Messrs. Kwadwo Owusu-Afriyie – aka Sir John – the CEO of the Forestry Commission, and Dr. Apaak, I believe that the best use to which confiscated illegally felled rosewood could be profitably put is to make furniture for not only our school-going children and grandchildren, but for our health centers and hospitals as well.
We haven't forgotten GUBA, SUBAH and SADA and the Akonfem (Guinea Fowl) sagas and episodes, among a legion of others, Dr. Apaak ought to rest assured, and stop behaving as if a presidential residence-snatching Mr. Mahama left any enviable or emulative leadership example and/or legacy for his successor(s).
*Visit my blog at: kwameokoampaahoofe.wordpress.com Ghanaffairs
By Kwame Okoampa-Ahoofe, Jr., PhD
English Department, SUNY-Nassau
Garden City, New York
September 7, 2019
E-mail: [email protected]