NDC is a dying horse - Mac-Manu declares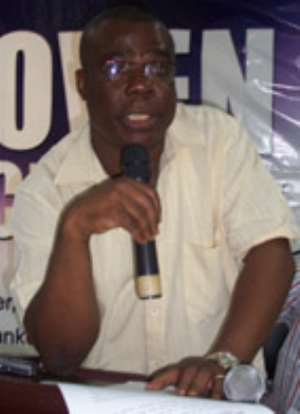 Kumasi, Feb. 20, GNA - Mr Peter Mac-Manu, National Chairman of the New Patriotic Party (NPP), has described the National Democratic Congress (NDC) as a dying horse, trying desperately to paint a gloomy picture of the country on the Representation of the People's Amendment Bill (ROPAB) before its death.
He has therefore, called on the good people of Ghana to see through the NDC's tactics and reject them for what they are. Speaking to the press in Kumasi on Monday after a meeting with the Ashanti Regional Executive of the party, Mr Mac-Manu therefore, asked the NDC to stop the false propaganda that the government wanted to rig the 2008 elections and that was why it was bent on ensuring that the bill was passed into law.
He made it categorically clear that whether Parliament passed ROPAB or not the NPP was going to win the 2008 elections massively, citing the good work of the government as its major trump card. The NPP National Chairman said, the NPP was not only going to win the elections but was going to win more parliamentary seats. Mr Mac-Manu said following the continuous resignation of some top notch of the NDC and other supporters, the party was in tatters, as the NPP remained the most solid party in the country.
The NDC, he said should therefore think of re-organising itself and stop using ROPAB as an excuse and called on Mr Alban Bagbin, the Minority Leader in Parliament to lead his men back to Parliament to debate the bill in a civilized parliamentary manner. He called on members and supporters of the NPP to live distinguished lives, pointing out that the party was a peaceful party and as such, members should not behave like other political party members.
Mr Mac-Manu said the major preoccupation of the new national executive was to move the NPP in Ashanti forward to win massive votes in 2008, as it had been realized that the party lost some ground in the 2004 elections in Ashanti, its stronghold.
He attributed this development to some problems, which have been identified and would be resolved to ensure massive win in the region. The National Chairman used the opportunity to thank the delegates for voting him into office as the chairman and pledged that he and his executive would not fail them.