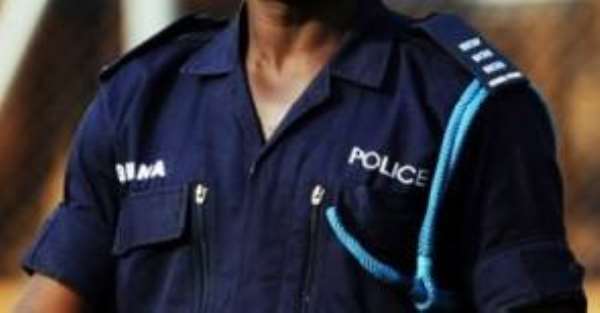 Ok, I couldn't stop myself from using this title, but the truth is, Ghana police service should and must keep tempo with time---if indeed it wants to protect its officers from needless deaths and being under siege all the time.
Interestingly, the acting IGP,Mr. James Oppong Boanuh has advised police personnel to remain vigilant because of the recent killings of our men and women in uniform. But I wish he had told the entire police force 'WHAT TIME IT IS' in Ghana right now(in a plain language) , so as to make his message more comprehensible and hit a home-run .This is not a fluke for Ghana police--this 'crisis' has been building for decades but no one seemed to see it coming.
Does history repeat itself? Sometimes I hate to be right .Way back in 2008 ,I penned an article online , with the caption: "Who is Policing the Ghana Police?," that continues to get an input .I didn't stop there. On 2017, I wrote another one :"The Gunning down of Police Officers is a teachable Moment". I basically outlined the impediments of the police service and how to correct the deficiencies, else things will fall apart uncontrollably. You see, I was right!
In essence ,I was more or less trying to draw the nation's attention to the problems the police service faces and how to fix them because not only the issues are close to my heart ,but my professional background won't let me negotiate with my camouflage ;no matter how hard I try. Not only that, if Ghana police's personnel is not safe obviously none of us is safe.
The dangerous part of the situation is that when the law enforcement agents in the country are dying like files, the entire nation should be wailing because none of us has a chance to live peacefully.
The main reason I'm so involved with the Police's issues is that some qualified people who can definitely find solutions to the problems are increasingly reluctant to bring them out for the fear of the government and police administration officials not buying or implementing them.
The government and police administrators will swear and put their right hands on the Bible or Koran that there is no money to embark on any earth-shaking police modernization exercise. But in these challenging times, we need to deal with this insecurity in our security service , very seriously if we want to survive as a nation and as individuals because we can't gamble with people's lives.
To solve the police service's problems they need to be identified first,so I'm going to try to list them here:
I don't care what anyone says, the major problems facing the police service right now are these: LACK OF A PERIODIC IN-SERVICE TRAINING AND POLITICIZATION OF THE SERVICE. No amount of money spent on the hardware and logistics can stop the 'bleeding' if a constant training is not incorporated into the EQUATION, in order to let the officers hone their skills and agility.
Fear for their own safety from lack of in-service training can cause over-reaction that could be very costly to the nation and the public. In law enforcement profession there is no situation that is totally safe, but there are situations that can get out of hand because the officer is insecure with his or her ability to control the situation. So to win their game every police officer needs regular in-service training regardless of the rank.
Needless to say ,for the police service to live up to the public's expectations , and to promote the officers' longevity, the government should invest in the capacity building of the officers by encouraging a very vigorous in-service training and provide educational financial aid to those who are willing to further their education and acquire more law enforcement knowledge or they become casualties of time.
With that in mind, I'd like to urge our universities and colleges to introduce law enforcement courses that can enhance more avenues for the police personnel to study.
The in-service training is very crucial here. Because from the stories emerging from the slain officers' incidents, it is most likely the officers made many 'tactical errors'. By that, it means they gave their killers 'perfect opportunity', the killers were waiting for. From law enforcement's perspective, not approaching the suspects tactically, failure to take control of the situation with command presence, failure to get more cover officers, searching poorly, failure to have body armor and not strictly following the police service procedures to achieve their law enforcement objectives can lead to deadly consequence.
For one thing, Ghana Police Service is not making use of K-9 dogs as a major part of the crime-fighting arsenal--I wonder why! In fact, every police station in the country should have at least, two dogs to help the officers in their duties.
Arming the officers without constant training is not the answer. In fact, it's going to create more security challenges for the service and the public if we want to throw a bandage on it.
Poor background check of the recruits and 'Back -Door' recruiting practices also hamper the selection process and the service's integrity. To promote transparency in the system there is a need to have an independent Investigation outfit, under the auspices of the ATTORNEY GENERAL, to recruit, conduct the background checks and investigate any public grievances against the police personnel.
Poor general condition of service is affecting the morale of the officers tremendously. Have you checked the Police' barracks lately across the land? I wonder who is in charge of their living arrangements.
Ghana police is not completely 'Independent' .And, it's always dangerous to politicize the security agencies in Ghana. The District and regional commanders cannot take bold decisions in the interest of the officers because the impression is created that any officer who is not liked by the immediate political head of the district, municipality or region is tagged as an enemy or a member of the opposition party.
Unfortunately, so many officers of the Police administration have forgotten that their officers did not swear to serve politicians, but the state of Ghana.
For all things being equal, Ghana police service can't and won't survive the siege it has found itself in if it doesn't get rid of one of its major Achilles' Heels--Career stagnancy.
Career stagnancy, whether imposed by the officers themselves or the administrators can be dangerous to their health and lives. Failure to
read any police duties- related books or challenge yourselves can result in the loss of enthusiasm for your duties and may lead to some ethical impropriety and even death. Once the officers come out of the Police Depot or Academy, they become so complacent in their duties till retirement. Such attitude cannot only show its ugly head in the officer's day-to-day activities, but it can also make him a prey for the bad guys on the streets; who are armed to the teeth and constantly trying to explore the officer's weaknesses. It's a fate that is befalling on some of police officers in recent time.
The aforementioned factors and other contributing factors are very rampant in the Ghana Police service, therefore the only way to ratify the situation is for the government to spend money on in-service training, every six months for all the officers.
Without a doubt, every well- trained and well-groomed officer must have the ability to look at any situation in opposite ways. What seems logical and reasonable may, in fact, limit your ability to accomplish your law enforcement objectives or limit your chances go home in one piece.
One more thing: There is a huge amount of public mistrust for the police personnel and that needs to be addressed and fixed, other than that every measure put in place will be a waste of resources and time
In this day and age when the bad guys are targeting the officers and the entire service is under siege the officers should definitely know 'what time it is' in Ghana---so as to start thinking like real officers (not as a 'Rocky' )because law enforcement profession is a real serious business; not a 'hobby'!. Those who are not ready should rather find another profession where thinking- on -your- feet is not required. Perhaps, playing with your phone while you're on duty at the bank is not the best way to think-on-your-feet--if you know what I mean!
Until next time, stay tuned. Be informed and take care of your health and life because Ghana and your family need you.
Kwaku Adu-Gyamfi(voice of reason)
CEO of 'Lion Gate' (A public- safety-related outfit) Somerset, Nj, USA