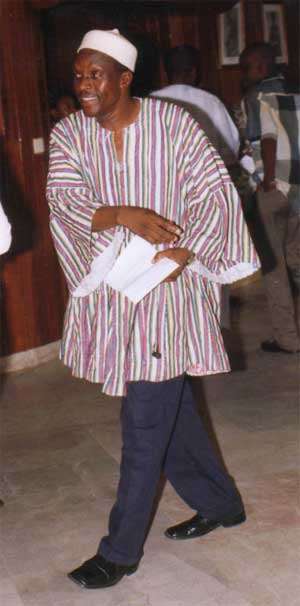 The minority leader of the Ghanaian parliament is helping train new Tanzanian parliamentarians. Alban Bagbin is in Tanzania at the invitation of the Commonwealth Parliamentary Association (CPA). He's serving as a resource person at a post-election seminar with all members of the newly elected Tanzanian parliament.
The seminar is taking place in Dodoma, Tanzania, from today (Monday) until Wednesday. Bagbin is expected to speak on the role of the opposition in Parliament and brief participants on Ghana's democratic experience, especially the minority's activities in Parliament.
Edward Doe-Adjaho is the deputy minority leader in the Ghanaian Parliament. Talking to English to Africa reporter Peter Clottey, he said, " Experienced parliamentarians within the Commonwealth [are selected] and then given specific responsibilities to be involved as resource persons to train the newly elected members of Parliament. The Commonwealth Parliamentary Association decided to extend an invitation to the Honorable A.S.K. Bagbin, and it's on that basis that he is being asked to be one of the resource persons in training the newly elected members of the Tanzanian Parliament."
Earlier this month, Ghana's minority boycotted parliamentary proceedings until further notice because of a bill presented by the government. The bill, known as the Peoples Representative Amendment Bill, seeks to enable Ghanaians living abroad to vote. The minority said the Electoral Commission is currently incapable of carrying out such a huge assignment.
Speaking about rescinding their decision to boycott and return to Parliament, Doe-Adjaho said, "I must say that efforts are being made by certain interest groups to talk to us to mediate in the matter…. We will look at all these, discuss it in the national interest, and if there is the need to rescind our decision we will do so. "