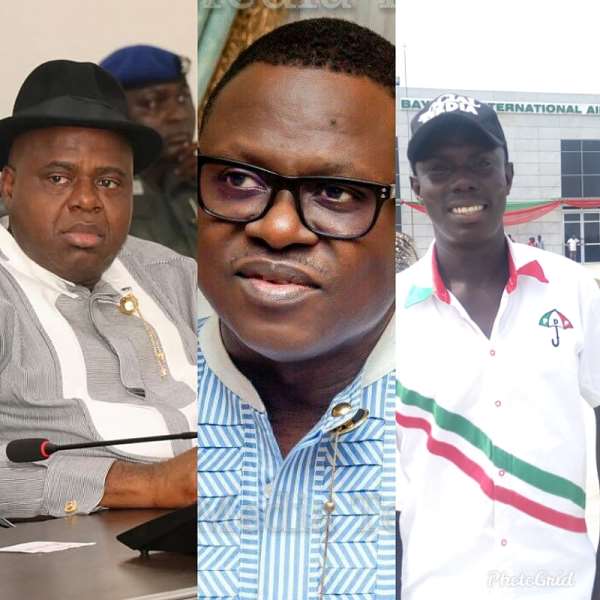 Hon. Kokobaiye Abeki
A member of Atiku/Obi Presidential Campaign Council 2019, from the Kolokuma/Opokuma LGA in Bayelsa State, Hon. Kokobaiye Abeki, has appealed to Chief Timi Alaibe to remain in the Peoples Democratic Party (PDP) and work for the victory of the party and its flagbearer, Senator Douye Diri, in the November 16 Governorship Election in the state.
Mr. Abeki made the appeal against the backdrop of the emergence of Senator Douye Diri as winner of the PDP Governorship Primary Election concluded on Wednesday.
Making the appeal in Yenagoa while filling questions from journalists, Hon. Abeki described the emergence of "our kinsman, Senator Douye Diri, as governorship candidate of our great party" as a dream come true for the good people of Kolokuma/Opokuma LGA.
"My elder brother, Chief Timi Alaibe, you will recall that you have tried your best to occupy Creek Haven in the last two decades without success and you will also recall that each time you contested, we your Kolokuma/Opokuma brothers gave you our full support to the very end.
"Now God who works in mysterious ways has given us a great opportunity to produce the next Governor of Bayelsa State, in the person of our own brother Senator Douye Diri. Our party has magnanimously given the ticket to one of us and it is now our collective responsibility to come together and make concerted efforts to secure victory for our candidate and party come November 16", Abeki advised.
Hon. Abeki, who pointed out that Chief Timi Alaibe's was a household name, as far as the game of politics in the Bayelsa State is concerned, advised the Opokuma-born political gladiator to spread his political tentacles to all the LGAs in Bayelsa State and the Niger Delta at large, to actualize his dream for the holistic development of the "Jerusalem of the Ijaw Nation" through his brother, Senator Douye Diri.
The Bayelsa State Coordinator of 1Million Youths for Atiku/Obi also used the media briefing to announce his nomination of Chief Alaibe as the Grand Patron of the 1Million Youths for Sen. Douye Diri campaign organization.
Hon. Kokobaiye Abeki, who hails from Igbedi town in Ward 11, under Constituency II in Kolokuma/Opokuma LGA, also appealed to all party faithful across the state to close ranks and ensure victory in the forthcoming governorship election to consolidate the achievements of the PDP in the state.