Allakida Movement Endorses Agona East MP's Candidature.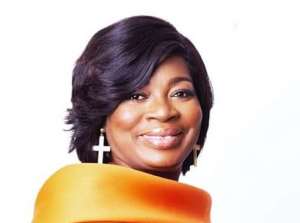 A Socioeconomic Equality Group known as "Allakida Movement" has endorsed the candidature of Hon. Queenstar Pokuah Sawyerr, MP for Agona East as she launches her third term bid to represent her constituents in the Eight Parliament of the Fourth Republic of Ghana on Sunday, September 8, 2019 at Agona Duakwa.
A statement issued on Friday, 6th September, 2019 by Cassius Otto Larbie and John Bambir, President and P. R. O respectively, the group believes that the Agona East Lawmaker is an epitome of an adage that says "what men can do, women can do better".
Below is the full statement issued by the group:
ALLAKIDA MOVEMENT WISHES HON. QUEENSTAR POKUAH SAWYERR WELL.
The Socioeconomic Equality Group (Allakida Movement, yet to be registered at the Ghana Registrar General's Department) seizes this opportunity to wish the MP for Agona East in the person of Hon. Queenstar Pokuah Sawyerr as affectionately known in our political landscape as 'Obaatanpa' the best of luck as she officially unveils her campaign toward 2020 general elections this Sunday, 8th September 2019 at Agona Duakwa in the Agona East constituency.
The group has, in recent times, witnessed the greater competition this illustrious female MP has brought up to juxtapose the adage that, " what men can do, women can do much much better ".
The recent survey conducted by the department of political sciences of the University of Ghana to access the performance of MPs was also an indicative of her selfless services done the people of Agona East, Central Region and Ghana at large. We wish her well, and also know her constituents will retain her in the general elections .
As a group, we also have no shred of doubt that the current socioeconomic hardship befalling Ghanaians will trigger an electoral change in 2020 polls.
Thank you !
Long live Ghana
Long live Allakida Movement
Signed;
Cassius Otto Larbie (President)
John Bambir (PRO)