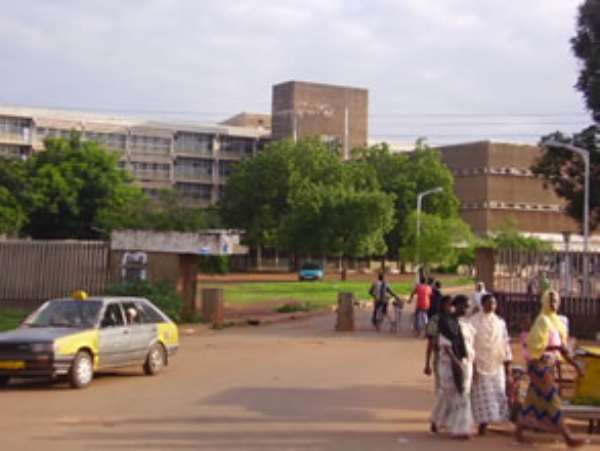 After six months away from home, I finally visited family and friends in Tamale. This was a visit I had anticipated a lot because; beyond just missing loved ones, I had the opportunity to celebrate Eid-Ul-Adha with family and also check on my farm. Traditionally, Eid-Ul-Adha is celebrated with family, and during that time of the year, many Muslims of Dagbang extraction return home to celebrate and witness the sacrifice of a ram or cow. Culturally, it is on this day the paramount chief walks to the Eid grounds and returns on horseback amid singing, dancing, and display of our rich cultural tradition. So, it was not just religious but social and cultural.
Tamale, as I always say, is not just a city; it is family because my life would not be the same if not for the city. I was born, raised and schooled in Tamale. The pursuit of postgraduate education was what first sent me out of the city, so it is safe to say Tamale is my comfort zone. After my last month's visit however, I can only conclude that the zone is no longer comfortable.
The phenomenon of social change is constant in human societies prompting every society to develop mechanisms that will adapt positively to changes when they arrive. In the case of Tamale, however, the changes and trends I witnessed and observed are not in my view the best for a city tht thrives to live and attain goals of the 21stcentury. Eventhough I am yet to see proof that Tamale is West Africa's fastest developing city, I believe we cannot hold this title and live this way.
Tamale at a glance is a very youthful city, and statistics from the 2010 census shows that the city has over 70% of her population lying within a youthful group. This explains vibrancy and energy in every activity and makes it the favourite in all aspects of life. I know you want to start a debate but hold my beer! Which city in Ghana will you find fans of an adored musician lock the entire city down to welcome him and his guests in a nine-mile journey stretching from the airport to the city centre?! Have you heard of Fancy Gadam and Maccasio? Well if you have not then let me end it here, you need google, not me. Ask your favourite politician with the experience of real campaigning, and he/she will tell you Tamale hits different and they provide a tremendous spectacle when you arrive. Your famous 'business people' will tell you how the markets treat them when they introduce their range of products. This is a city that blends culture with modernity. Our sense of hospitality and appreciation of issues contribute to the rich attributes acclaimed globally to Ghana.
Like I indicated, I grew up in this city with so much attachment to the place. A trend is growing (if not already established) in the city, and this includes; drug abuse, the menace of revenge porn and illegal possession of small arms by certain individuals. Today, in every suburb of the city, it is common to find a house or 'base' where young people meet (sometimes in broad daylight and productive hours) to abuse drugs and other harmful substances. This is worrying because we live in a country where mental health constitutes one of the least prior concerns of the government. The foremost psychiatric center which was privately run by the late Dr. David Abdulai is not in the best of shapes at the moment lacking essential support. We continue to watch and do very little while my young colleagues run their lives away into danger. Today, buying unprescribed grams of tramadol which is supposed to be banned is very common in Tamale, and young people who are not in the business of abusing it are teased and ridiculed. As for the almighty marijuana, even day-old babies can direct you to purchase or the 'base' they smoke it. I believe even Jamaica cannot match Tamale in a marijuana smoking contest. The only problem is they produce the best reggae/dancehall music, and we are gearing towards producing mad people in the future.
A few weeks ago, in our usual Ghanaian style, we were all upset that two young folks were hauled before a chief's palace in Tamale and flogged. Their crime was leaking a sex-tape. The uproar on social media was squashed after Manasseh Azuri Awuni released an investigative journalistic piece which took the airwavs and social media. I will not talk about what the chief did because it is not in my place to do so; I know the tables I break. In recent times, sharing sex-tapes in my city has become a norm; it is sometimes done as a revenge for a failed relationship and other times, it is pure tomfoolery. In this particular case, our man overdosed Burnalin syrup and shared his sex escapades with his girlfriend on snapchat and boom, the world of smartphone users did their thing.
Without any resort to what these young people were going through after the 'mistake', the lady in question was subjected to disgraceful acts like being shaved on camera and physically abused by her 'Uncles'. For the young man, his car was seized and he was fined and later flogged at the Chief Palace. Like I said I know the tables I break so let us leave it here. Nje Vuri…….
In 2019 alone, five police officers have been killed in Tamale with the latest victim, Sergeant Agatha Nana Nabin, murdered on July 30 while on duty. The suspects have been arrested and are before the court. This is a security issue that adds to my point of illegal possession of small arms. Young people boast owning guns in public and even from the stories from the arrest of the suspects, the guns that were retrieved are chilling and one shudders how a civilian would keep such ammunition, for what and why?! On this, I blame politicians and chiefs in part because, in the heat of political and chieftaincy clashes, these leaders armed their men and provided ways and means to getting them these ammunitions. Now that the clashes are over, the guns must be 'utilised'. You cannot put guns in the hands of misguided young men and expect them to be righteous with it. Insecurity is another factor for the guns in the city. The city is expanding, and the Tamale we knew growing up is not the Tamale of today. The city has extended into the adjourning Sagnerigu Municipal. Residents in these isolated areas are sometimes victims of criminals who often wield deadly weapons. With our security apparatus not in a relatively best form, people take things into their hands as such illegally possessing arms. My concerns may irritate some people because to them this piece means washing our dirty lining in public, but for me, it means more than that. Tamale has the potential of every world-class city, but this reality can be achieved through the people in the city. We must find practical ways of harnessing the potential of our youthful population by creating an enabling environment that will result in opportunities for wealth creation. It is time leaders look beyond themselves and consider the future of the city, yes you can buy luxury homes in other cities, but you definitely cannot point your left hand at where you come from. There is no place like home. Thus, Tamale is not just a city; Tamale is family.
Author - Iddrisu Abdul-Hak