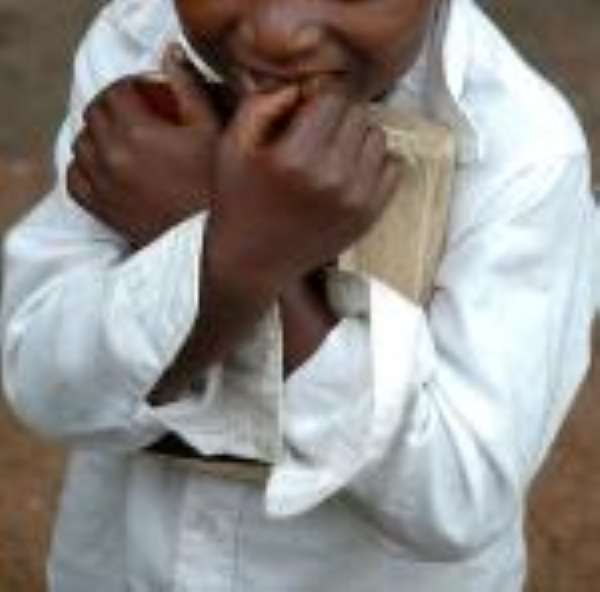 Have you ever heard the expression, "a bird in hand is worth two in the bush?" I have, and it reminds me of some important lessons from the Bible.
God spoke to Moses from a burning bush on Mount Horeb to go to Egypt and rescue the Israelites from slavery (Exodus Chapters 3 and 4). After a few exchanges with Moses who was reluctant to accept the assignment, God asked Moses, "What is that in your hand?" Moses responded that it was a staff. God asked him to throw it on the ground and when he did, it turned to a snake. God asked him to hold the snake by the tail and when he did, it turned back to a staff. God then told Moses that the staff was to be a sign to the Israelites that He had appeared to him to rescue them from slavery in Egypt (Exodus 4: 1-5).
Before God got involved, there was nothing special about the staff; it was just a stick used by Moses to support his movement and tend the flock. Once God got involved, however, the staff of Moses became the staff of God (Exodus 4:20). Moses used the staff to perform miracles throughout his successful mission.
Who does not like the familiar story of David and Goliath? In preparation for the fight, King Saul wanted to equip David with the King's own battle armor, helmet and sword, and turn David into a strong, mean fighting machine capable of instilling fear into the giant Goliath. David wanted none of them, so he had them removed. Instead, David chose to fight with what he already had in his hands - a staff, a shepherd bag, a sling, and five stones he picked from the stream. What a way to fight a giant! For David, it did not matter because the battle was the Lord's, and the Lord helped him to defeat Goliath with one stone or, as some Ghanaians would say, one touch! (See 1 Samuel Chapter 17). The battle is still the Lord's.
Many years later, a widow cried out to the Prophet Elisha for help because her husband had died leaving the family with debt and the creditor was threatening to take her two boys as his slaves. Elisha asked the poor widow, "what do you have in your house?" When she responded that she had nothing, except a little oil, Elisha asked her to go around and collect empty jars from all her neighbors. He asked her to go inside with her sons, shut the door, and pour the little oil in each of the jars she had collected, and when she did so, all the jars were filled with oil. Elisha told her to sell the oil to settle her debt and use the remainder to support the family (2 Kings 4:1-7).
On his part, our Lord and Savior Jesus Christ used five small loaves of bread and two small fish that a boy had in his hands, to feed about five thousand men (John 6:1-13). (Do not downplay your youth because God can channel His blessings through any person of any age. It is believed that the Prophet Samuel was 12 years old when God called him to deliver a message to Eli, the priest).
What do you have in your hand? What do you have in your house? Many of us do not appreciate or value what we have and are always hoping for something better, bigger or more valuable. In the hands of the Lord, however, little is much.
We can apply the idea of doing with what we have to three broad situations or categories of people: unbelievers, Christians, and everyone. Unbelievers who try to be righteous or holy before they come to Jesus for salvation, are like people who seek to get well before they go to the hospital to see a doctor. Salvation is a free gift by God's grace through faith in Jesus Christ. Therefore, whether you have sin in your heart or blood on your hands, come to Jesus the way you are because he invites all of us to "come to me, all you who are weary and burdened, and I will give you rest" (Matthew 11:28 NIV); and he guarantees it with a promise that "…whoever comes to me I will never drive away." (John 6:37 NIV).
God works in mysterious ways, and He is gracious towards all of us regardless of our past and present situations. Consider that God sent Moses, a fugitive from justice in Egypt who had killed an Egyptian for beating a Hebrew, to rescue the Hebrews from slavery and bondage in Egypt, and his only visible weapon for such an arduous task was a staff in his hand. There is still hope for all who honestly and earnestly seek God.
Those who are Christians should use the fruit of the Spirit and the Spiritual gifts that God has given us to promote and expand His Kingdom on this earth. We should bear and spread the fruit of love, joy, peace, patience, kindness, goodness, faithfulness, gentleness, and self-control (Galatians 5:22-23). We should not wait for something else before we can do God's work.
Some Christians are gifted to be apostles, prophets, evangelists, pastors or teachers (Ephesians 4:11-12). Others are endowed with wisdom, knowledge, faith, healing, miraculous powers, prophecy, discernment of spirits, and speaking in, or interpretation of, tongues (1 Corinthians 12:4-11). However, you do not have to be a priest or faith healer to pray for the sick; or a preacher, evangelist or teacher to proclaim the love of God and the need for an unbeliever to accept Christ as Lord and Savior; or a prophet to tell others that Christ is coming again. If you are a Christian, there is something in your hand that could be used today to draw someone closer to Jesus, or benefit humanity. Use it.
Everyone has some measure of talents or treasures, and all of us have equal time (24 hours). Do not say that if you were rich or had a particular talent, you would do this or that. Use what you currently have, or you may lose it. One lesson from a bird in hand is that in order to catch the two birds in the bush, you may have to let go of the one bird in your hand. Since birds do not stand still for long and have a habit of flying away, you may lose the one in your hand and not catch any of the two in the bush. Simply put, the opportunities that you ignore, underestimate, undervalue, or the talent that you hide or make dormant in search of the better one, may no longer be available when you fail to achieve the better, more desirable one.
God could have sent a staff from heaven; David could have equipped himself with King Saul's battle gear; Elisha could have prayed for oil from heaven; and Jesus could have commanded food to fall from heaven the way God sent manna to feed the Israelites. They did not. All of us have the physical or spiritual equivalents of a staff, a shepherd bag, a sling, five stones, a little oil, five loaves of bread, or two fish. Some have the Bible, fruit of the Spirit, Spiritual gifts, and more. We hope for the best – and we should – but what we have in our hands may be worth more than we think once we allow God to get involved. It is better to appreciate and use the talents and other resources we have today, rather than pray and wish we had better or more resources.
The invisible hand of the Almighty God will carry what is in our hands, big or small, to achieve impossible goals. That includes ability to pray. It is available freely to all. Often times, some Christians say that something bad happened to them or they faced certain problems, but there was nothing they could do except pray. Would they not have prayed if there were something else they could have done, or has prayer become the last resort? All of us have in our hands the greatest weapon in the world – prayer – and so we should not go about saying there is nothing we can do. There is always something we can do; it is in our hands, and it costs nothing.
Prayer is the key. May God grant us the grace to seek Him daily through our prayers.
Dr. Daniel Gyebi, Attorney-at-Law, Texas, U.S.A., and Founder, PrayerHouse Ministry, Kumasi, Ghana.
PrayerHouse Ministry is dedicated to providing a quiet facility for Christians to pray individually by themselves without any intermediary priest, pastor or any other person. This is a free service. No money is demanded or accepted. One facility is located at Kyerekrom / Fumesua, near Building and Road Research Institute Offices, one mile off the Kumasi-Accra Road and next to a house called Grace Castle. If you are interested, please contact Agnes at 054-7498653. Another is located at Kantinkyiren, at the junction of Kantinkyiren and Konkori, off the Kumasi-Obuasi Road, branching left at Trede junction. Contact Kwadwo at 020-8768461 / 0246-989413.