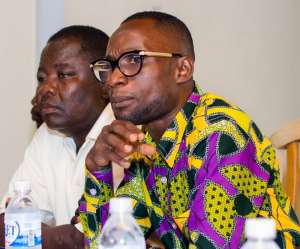 Sam Jerome
The promulgation of the 1992 constitution brought into existence the democracy and constitutionalism of Ghana which has been in practice for more than two decades specifically twenty-seven (27) years now.
During this period, Ghana has had five successive Presidents emanating from the two giant political parties in Ghana ie the great NDC and NPP.
Over the years, spanning from President Rawlings up to President Mahama, the sitting President has been good and shown act of good fate and tolerance towards opposition leaders and parties. This singular acts goes a long way to consolidate our infant democracy which is still in a nurturing stage by way of epitomizing to our supporters that we are one. This further water down tensions or possible feud which could emanate.
This acts often times are been exhibited during state functions where you will find incumbent President spending a minute or some seconds in a tête-â-tête with opposition leaders. This has most times been the practice after a handshake.
However, as vindictive as he is, President Akufo Addo demonstrated his hate and resentment towards H. E. John Mahama by way of ignoring such convention or practice a handshake though he did with other dignitaries. As widely circulated, President Akufo Addo after spending some time with other dignitaries after handshake, decided to ostracize the flag bearer of the NDC. This can only be interpreted as one who isn't tolerant and peace loving.
Even though the incoming President doesn't need that, President Akufo Addo missed the opportunity of consolidating our gains in our democratic practice. This act must be condemned by all well-meaning Ghanaians who believe in democracy.
Going forward into 2020, our teeming supporters will be considering our actions and mannerisms which can have direct effect on our democracy as a country. I think the posture of President Akufo Addo is needless and one that doesn't inure to our democratic benefit.
It is public knowledge that the former president and flag bearer of the NDC has seen it all and have met them all when it comes to political leadership. President Akufo Addo in any day cannot compare himself to President Mahama but for politics, we must relax our egotism and imperious nature.
Long live the humble John Mahatma
Sam Jerome
RCO - Western North Region
5th September, 2019.