South Africa xenophobic attack 'ill Move' - Go Ghana international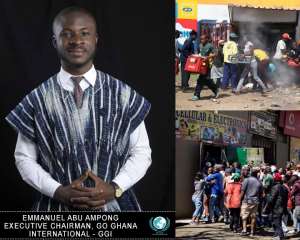 Leadership of Go Ghana international - GGI a Ghanaian based organization with aim of projecting Ghana beyond its borders through policy formulation as well as creative art and science lead by Master Emmanuel Abu Ampong the Executive Chairman of the organization have heavily condemned the attack of South Africans on other foreign nationals and have described the action as 'ill Move' following the act of South Africans attacking the man with colour rather than repositioning their radial on the man in mask. The violence as reported erupted ahead of a meeting on the world economic forum on Africa in cape town where hundreds of political and business leaders will gather for a 3 days forum.
Critically examining the issue, the attack since its breakoff has vastly destroyed properties, displaced people and caused loss of lives. More than 50 shops, vehicles, properties and most importantly life's of individual with great potentials to transform the black continent and its economies have been swept into the gutter by its own people and we ask, is this the way to go as people, with the course of making Africa the strongest in terms of its economy and people. Attacking the man with colour out of fear of confronting the man in mask was an 'ill Move'. The act so far have left five dead in riot in Johannesburg, which is a recurrence of 2015 attack that left at least seven people killed.
The Ethiopian embassy in South Africa upon the intensity of the attack ordered its citizens to close all business owned by Ethiopians out of tension, which in effect has affected business operations and government revenues over the last few days. Out of this, there are several businesses owned and operated by South African nationals in Africa which are running peacefully without suffering from any form of intimidation.
The level of fear and hatred for that which is perceived to be foreign, and that triggers attack should not be encouraged yet should be seen as an economic booster in terms of revenue. Moving forward, Angry protesters from other African nationals such as Nigeria with the intention of fighting back by equally destroying business such as MTN, DSTV, BROLL, SHOPRITE own by South African nationals should rather think of solving the problem rather than fighting back in anger. There can be no justification or whatsoever over grievance which should compel people to attack others. This in effect is a defaming act which curtails the aim of the African UNION. In the bid of achieving excellence beyond our borders, Africa must unite.
By Peter Kenney
Ghana Institute of Journalism