Pan-Afrikan Dialogue Ghana Condemns Xenophobic Attack In SA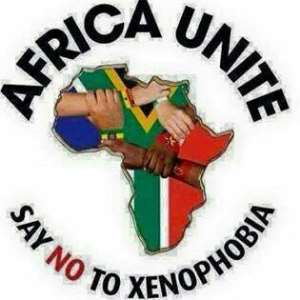 It is with deep sorrow and regret that my attention has been brought to the recent spate of xenophobic attacks orchestrated by our brothers in South Africa.
Again, a complete shame and failure of our governments to give our people a better economic life and improve the living conditions of Afrikans and not just South Afrikans, but Afrikans. Africa belongs to Afrikans and we are brethren. Thus, no matter the crime committed by another Afrikan, it is absurd, wrong and completely immoral to take the life of another Afrikan.
We pretend we do not know who the real enemies are yet we go ahead and attack innocent Afrikan brethren. Who owns the real lands in South Afrika?, the gold mines, the factories? Those are the ones we should be questioning. The heroes who gave up their blood to see South Afrika free today will look back and curse South Afrikans for these ungodly actions.
Let's not forget that eventhough there might be underlying issues that we do not know might be fueling some of these tensions, We condemn in no uncertain terms the barbaric, horrific events that have taken place and are taking place in the South Afrika.
We commend other African countries like Rwanda, Dr. Kongo, Zambia for reminding South Afrika that they are not an Island but exist in the commonwealth of all Afrikan nations. Comrade Cyril Ramaphosa should do the needful and stop this barbarism.
Let not South Afrika dish out to fellow Afrikans what these fellow Afrikans fought so hard to give to South Afrika; brutality, curtailed freedom etc.
We call on the South Afrikan government to deal with the issues, to bring the perpetrators of these heinous crimes to justice, else fellow Afrikans will advice ourselves regards South Afrika. We also call for calm and let no one repay crime with crime for we are brothers related by blood, land and ancestry.
God bless mother Afrika.
Comrade Bukari Kuoru.
National Secretary
Pan Afrikan Dialogue Ghana (PAD-GH)