If Our Roads Won't Be Fixed, Our Schools Must Be Fixed Now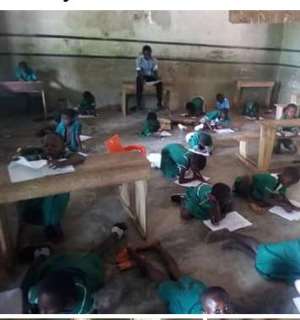 Kwame Danso remains one of the less privilege districts in Ghana as far as good roads, good health care and most importantly quality education is concerned.
This district has been in the news and is apparently famous for almost the wrong reason due to the poor and deplorable nature of its road. As if this foul fame isn't enough, it has become a worry that not only are their bad roads overlooked by the government and all stakeholders involved but again their rights to good and quality education for effective learning and development is denied.
The question remains therefore that if the quality of the education of this district is somehow being neglected, then what else can they boost of as a people and at large a district?
A case study as a preamble to this issue is the bad condition of the Roman Catholic Basic School in a very bright community called " wiase" which is the nearest town to the district capital, about 500m away. The pictures and videos which are going viral shows the deplorable conditions under which school children learn is just pathetic. Poor school buildings and lack of infrastructure for effective learning is a major challenge setback.
Pupils of Wiase Roman Catholic Basic in Kwame-Danso district throughout the academic year, squat, kneel, stand, lying down prostrate or sit on the bare floor to write down notes, exercises or examinations. This is therefore the first concern of the natives of Kwame Danso district urging all stakeholders and NGOs as well as individuals to come to the aid of their aid.
The people of the district believes with the right education, their community will raise quality citizens to compete locally and internationally and contribute to the development of their community if government cannot do all.