Suhum-Photos: Poor road, bridge inform Abisim Dawa residents not to vote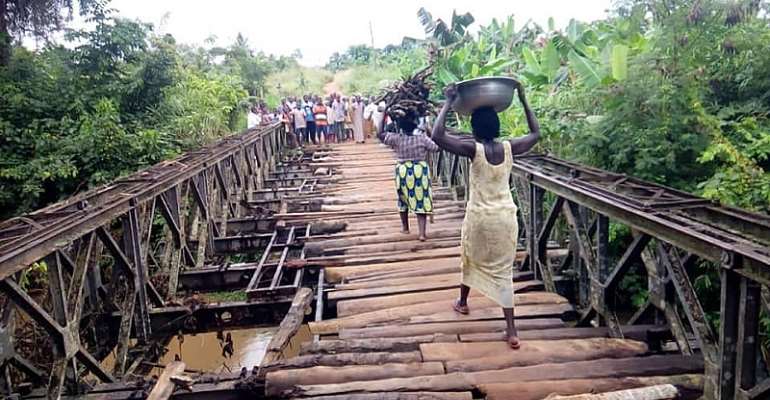 It seems residents of Abisim Dawa near Nankese in the Suhum municipality of the Eastern Region are yet to experience their fair share of the national cake in terms of development.
The farming community is faced with poor road network and an old bridge at the verge of collapse due to its neglect by authorities.
Residents of the community, have, therefore, vowed not to entertain any political activity in the community ahead of the 2020 general elections, as successive governments have failed to initiate developmental projects to improve lives of residents.
The Odikro of the community, Bafour Nangba, narrated the situation is alarming as residents find it difficult to ply the collapsing bridge, which has had most of its metals taken off posing danger to lives.
He also, expressed worry about the challenges farmers endure in transporting their foodstuffs to market centers, as vehicles are not able to ply the poor road network leading to the community affecting their livelihood.
Bafour Nangba added, the situation has left many poor because foodstuffs are normally left to rot in farms due to accessibility to send the produce to neighboring market centers to sell.
Some aggrieved residents who also shared their experiences appealed to the Member of Parliament, Mr. Opare Ansah, the Municipal Assembly and Roads, and Highways ministry to intervene and ensure the situation is resolved immediately.
Abisim Dawa is known for production of foodstuffs such as; cassava, plantain, maize, cocoyam, cocoa and other vegetables but unfortunately, farmers find it difficult to sell their produce after harvest.