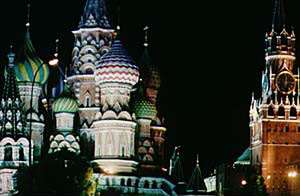 An official letter circulated by the Embassy of the Republic of Ghana announcing the arrival of the newly appointed Ambassador Air Vice Marshall (rtd) Edward Apau Mantey has created so much fuss and confusion among the Group of African Ambassadors in Moscow.
The confusion began after some African Ambassadors with great enthusiasm and as an expression of solidarity turned up at the airport only to know that the date of the arrival of the Ghana's Ambassador has been changed.
"Indeed, its our diplomatic tradition that the Group of African Ambassadors receives and sends off colleagues," said Her Excellency, Ambassador Extraordinary and Plenipotentiary, Mrs Melrose Kai-Banya, Deputy Head of the Group of African Ambassadors in Moscow.
"But we are a little bit disappointed by the information that has been sent to us concerning the change. Some of us put away priority assignments of the day."
The official letter was signed and circulated by the Head of Chancery, Dr Joseph Agoe, according to the Embassy sources.
"All hopes were placed in him, and all problems over there must also be blamed on his head squarely, a privately sponsored postgraduate student, Wlliam Adjie said in remarks.
"Sometimes when you come face to face with something disgraceful or some mess of a kind, it's very satisfying to shout it out, instead of covering it up. It's better to learn from such mistakes."
Sources at the Embassy also said that Air Vice Marshall (rtd) Mantey's arrival to his new ambassadorial post has been expected these days but the Ministry of Foreign Affairs in Accra, for one reason or the other, has made available insufficient information or notice.
In any case, observers said that the Embassy has administratively foundered by engaging and later disengaging the members of the Group of African Ambassadors.