Eight before Sekondi court for riot and conspiracy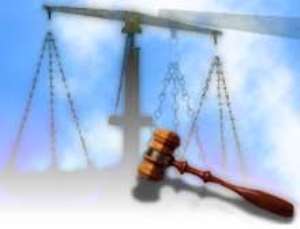 Sekondi, Feb. 17, GNA - Eight persons on Thursday appeared before a Sekondi District Magistrate's Court for allegedly conspiring to commit crime, rioting and offensive conduct, conducive to the breach of the peace.
They are Abusupanyin Nwazo Mia, Haruna Musa, Daniel Abu, Adama Yakubu, Suleima Serku, Samuel Eleablay, Avo Blay and Kofi Agyei. All accused persons pleaded not guilty. The court granted 10 million cedis bail with one surety to Abusupanyin Mia and remanded the other seven accused persons in prison custody. They are all to re-appear on February 23 this year. Prosecuting, Police Inspector Andam Okyere said the complainant, Nana Addo Ndorendah V, is a gazetted Chief of Azullenoanu, near Axim. Inspector Okyere said the first accused, Abusupanyin Mia is the head of family and Abusupanyin to the stool, while the remaining accused persons are natives of Azullenloanu.
He said on December 11, last year, Abusupanyin Mia in agreement with the rest of the accused persons, issued a destoolment letter signed and thumb printed by them. Inspector Okyere said co pies of the letter were sent to the District Chief Executive for Nzema East, District Police Commander and the Registrar of Nzema East Traditional Council at Atuabo. He said in the letter, the accused claimed they have destooled the complainant and that he must stop parading himself as the Chief of Azullenoanu.
Inspector Okyere said the accused persons went to Ankobra FM Station near Axim and announced on air that, they have destooled the complainant and nobody should recognise and transact business with him. He said on the night of January 7, this year, the accused and some people now at large attacked the complainant at his palace with stones and pieces of cement blocks in attempt to force him to vacate the palace.
Inspector Okyere said swift and timely response by the Police prevented a clash between the accused persons' faction and the chief's. He said the complainant later made a report to the Police and after investigations, the accused persons were charged with the offences.