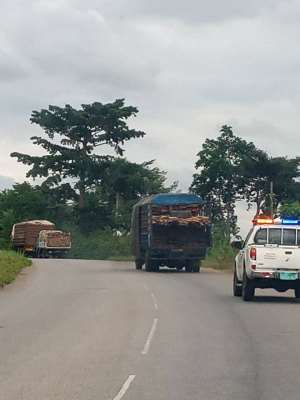 The Ashanti Regional Director of the National Disaster Management Organisation (NADMO) Mr. Kwabena Nsenkyire has denied reports that his outfit escorted illegal lumbers from Tepa to Kumasi.
It is unfortunate he noted, that some people would plot to pull him down when he has clear conscience and doing what will prevent the loss of lives instead of waiting for disasters to occur before acting.
Reacting to the allegation which has filled the nooks and crannies of social media since last week, Mr. Nsenkyire explained that the lumbers were donated to him by some well-meaning elders at Manso to be used in roofing some school blocks and the District Educational Office.
Showing an official letter from his office to the Regional Director of the Forestry Commission for the auctioned lumber, the NADMO regional boss said there was no way he could have gone for them for his personal gains or aided some people to perpetuate that illegality.
He also denied allegations that his official pick-up vehicle was escorting three trucks saying theirs was only one.
The lumber, as we gathered, was part of some auctioned products by the Forestry Commission and duly paid for by some Elders of the Amansie West District, who in turn donated it to NADMO to save their children and teachers from any mishap.
"So we had an auctioned movement authorization form signed by Mr. Yabenne, and our car had to follow the truck to Kumasi". He stressed.
For now, he said, the lumbers are in his official house while they prepare the list of schools it would be distributed to.
"As a visionary leader as I am, I will not wait till there is a disaster before I take action, but people will not understand me", he boasted.