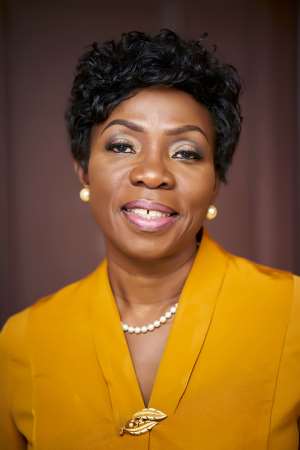 Esther Cobbah
The Chief Executive Officer of Strategic Communications Africa (STRATCOMM AFRICA), Esther Cobbah has said communication is a great tool for effective development.
She made this known during a discussion on "Communication, Leadership and Business" on TV3's Time With The Captains, (a business focused production).
Addressing a mixed audience of entrepreneurs and students, she noted that " I thought that sharing of knowledge will bring development so I went to the school of communication and my eyes opened because I actually saw that communication is the tool for effective development".
According to the Stratcomm Africa CEO, many people have held on to the assertion that technology is the way forward for development; an assertion she believes is misplaced.
She stated that technology has to be communicated to make it effective, citing the example of a fufu - pounding machine which could function as it was programmed to do but was rendered redundant due to lack of proper communication on how to operate it.
She further described communication as a science and an art. Using a biblical anecdote, she described Jesus as a great communicator who understood the reality of the people at the time and brought them into his reality.
Ms Cobbah emphasized that just as a medical doctor examines his patients before prescribing the right medication, a social doctor must also understand how the minds of individuals work to understand their needs and provide information in the right dose and at the right time to make the needed impact.
Responding to a question about the blend of image and communication, she said that in Stratcomm Africa, "we blend the science and the art of communication".
She explained that science refers to the processes for collecting data which forms the basis for the creative work that is done and it is quite difficult to do. There is the need to know and understand one's audience. Communicators have to apply scientific methods in their quest to create an image that works for them and resonates with their target audience.