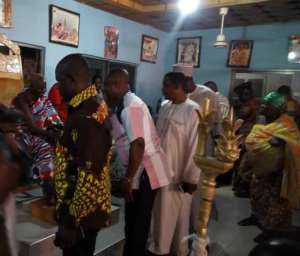 THE MINISTER EXCHANGING PLEASANYRIES WITH NANA AKYEAW BREMPONG II
The Bono East Regional Minister Hon. Kofi Amoakohene has begun the second leg of his familiarization tour of the region with a visit to the Atebubu-Amantin municipality.
The visit took him to Amantin and Atebubu where he addressed the two traditional councils and also interacted with heads of department and party executives.
At Amantin a spokesperson for the Omanhene Nana Osabarima Owusu Ababio II, minced no words in expressing his displeasure at the seeming disparity in the allocation of development projects between Atebubu and Amantin.
He cited a recent attempt by the municipal assembly to put up a one and half kilometer street lighting facility instead of six kilometers as promised by President Nana Addo Dankwa Akuffo Addo which led to a rejection by the community because they felt short-changed.
He reiterated the perennial water problem facing the community and urged the minister to take steps to address the situation as a matter of urgency.
Reacting to the Amantinhene's sentiments, the regional minister urged the community to accept the initial 1.5 kilometer street lighting facility as he together with the municipal chief executive work to ensure the delivery of the other 4.5 kilometers.
He said his administration is working tirelessly to ensure a comprehensive solution to the Amantin water crisis promising to make everything possible to ensure a harmonious relationship between the municipal assembly and the people of Amantin.
At Atebubu Nana Owusu Akyeaw Brempong II, Omanhene of the Atebubu traditional area asked the minister to find a lasting solution to the age-long water problem facing the town as well as fix the major roads linking the town to other districts. He called for additional health personnel at the municipal hospital to befit its new status.
Hon. Kofi Amoakohene who is also the Member of Parliament for Atebubu-Amantin said government with support from the World Bank has earmarked the construction of 226 kilometers of feeder roads in the municipality saying plans have been finalized for the construction of the Atebubu-Kwame Danso, Atebubu-Busunya and Prang-Kintampo trunk roads.
The regional minister said evaluations will soon be carried out on the main Atebubu water system for inclusion in the 2020 budget so as to find a lasting solution to the problem.
Hon. Amoakohene revealed that to give credence to the promise made by President Nana Addo Dankwa Akufo-Addo to spread resources across the region, the regional directorates for education, health and agriculture will be sited in districts either than the regional capital.
At a meeting with heads of department and other staff of the assembly, the regional minister asked them to be innovative in their thinking and work hard to ensure the accelerated development of the region.
The minister was accompanied by his deputy, Hon. Martin Oti Gyarko, the regional coordinating director Mr. George Padmore Mensah, sectional heads, security chiefs and regional executives of the New Patriotic Party.