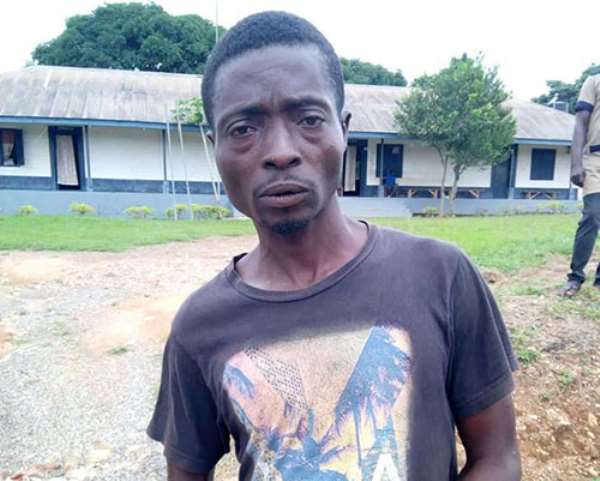 BUSTED! Richard Nanor
A 15-year-old girl is battling for survival after she was allegedly defiled brutally by three men.
She had mentioned her stepfather Kwaku Akpagli, her uncle, George Amenu, and one Richard Nanor as the suspects who perpetrated the heinous crime.
The girl, who stopped schooling at Primary 3, claimed the three men forced her separately and had sex with her on different occasions.
The sad incident occurred at Akyem-Potroase, near Kyebi in the Abuakwa South Municipal, and later at Asuboi in the Ayensuano District – both in the Eastern Region.
The traumatized little girl, who cannot walk properly, is currently receiving treatment at the Kyebi Government Hospital.
The victim told DAILY GUIDE that "I'm always in pain because of my stepdad. My father divorced my mother when I was eight years old, and my mum got married to this man – Kwaku Akpagli – who has been my stepdad for the past years. For about three months, he has forcibly been having sex with me whenever my mother is not around."
"One day my mother travelled and my stepdad asked me to go to bed together with my little siblings. As we were deeply asleep, he carried me and put me on his matrimonial bed and raped me. Afterwards, he threatened me not to report the incident to anyone else I would see his bad side. I told him I couldn't keep that as a secret so I went to the village and told my aunty about it," she narrated.
"My aunty then advised me to tell my mother, which I did. My mother told me I was telling lies and that I wanted to destroy her marriage so she sacked me from the house. I felt terrible ever since I went to tell another aunty of mine about it. She made me go to my uncle called George Amenu – who is a drug addict – to spend the night at his end. He also had his way and had sex with me in the course of the night," she added.
She said she went to a certain woman who sells 'waakye' to stay with her at Asuboi in the Ayensuano District, but the woman's son called Richard Nanor, 34, came to visit them and forcibly had sex with her on two occasions.
Assemblyman of the Odumase Electoral Area, E.T. Mensah, who has informed the media about the case, said the case was first reported to the police at Amanfrom near Akyem Odumase before it was forwarded to the DOVVSU unit at Kyebu.
He said it was based on his effort that Richard Nanor was arrested.
Currently, the police are hunting for the stepfather and the uncle – both of whom are at large.
---Daily Guide