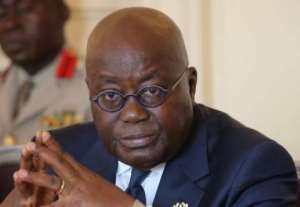 President Akufo-Addo, Ghana
Your dream solution of ending the havoc Galamsey has brought upon this nation is not working.
As passionate as I am about the environment, I wrote a letter somewhere last year and opined that your methodology was going to fail because the men you trusted with the work were interested in making enough money for their great grandsons.
I left Accra where you enjoy the seat of government last week Tuesday and embarked on a tour to see for myself the extent to which your fight against Galamsey was gaining or failing.
Nana, I am telling you that if you don't get out of your office and visit every single town and village to witness for yourself the lies your men tell you about how they are fighting Galamsey you will regret one day unless of course maybe you don't care about Ghana as you claim you do.
Akufo-Addo, I will remind you again that if you and your men sit in the comforts of your high offices in Accra and feel your words and the mere sending out of soldiers and police under the guise of Operation Vanguard will work then you are joking! I started counting the losses from Denkyira Obuasi through to Wassa Akropong to Ayamfuri. As for Tarkwa their bad roads masks the Galamsey pits that surround their environments.
The excavators are returning in bits. I counted at least 5 of them between Wassa and the Petepom end on that stretch along the road. Can you imagine those in the forest?
Again, I will emphasize that you cannot fight Galamsey from the comfort of your office. We all come from a village in this nation. There are examples for us to follow. Places like Enchi are free from Galamsey because their chief organised a durbar and instilled the fear of our Gods in them by pouring libation and asking that anyone who dares destroy the forest and farmlands for their personal greed through Galamsey should be called by the Gods for answering.
This is who we are. A people who didn't need science to heal nor religion to have morals. Your men are lying to you. Most of them have 'agents' within the vanguard teams who call ahead of time to arrange for monies so the team turn around without ever getting to the sites. I hope you understand the meaning of that phrase.
Your national security isn't helping you in any way. They should be in the various communities working their way into the various Galamsey gangs to get you the needed info that will break their chains.
I am very sad that upon all your claims against Galamsey, you are terribly failing.
Nana you are failing!!
A citizen, not a spectator.
Kweku Ananse Mansoh.
The Galamsey Boy!
College of Science,
Dept. of Biochemistry & Biotechnology.
M.Phil Forensic Science
Kwame Nkrumah University of Science and Technology
Kumasi, Ghana.
0247-514944