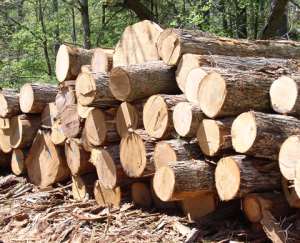 The District Chief Executive (DCE) for Builsa South of the Upper East Region, Daniel Kwame Gariba has dismissed claims some 20 trucks loaded with Rosewood are hiding in the area.
According to him, such a consignment would have long been sighted for the appropriate action to be taken given the small land size of the area.
On Monday, the Minister of Lands and Natural Resouces disclosed that the Forestry Commission had tasked security agencies to mount surveillance and impound some 20 trucks of Rosewood allegedly believed to be hiding in the area.
But reacting to the Minister's comments on Eyewitness News, the DCE said he had personally conducted a search after hearing the news and had not found the trucks.
He said the Minister's disclosure should be treated as mere allegations because the constituency is incidentally presided by Dr. Clement Appak, the MP who has been vociferous in the fight against the smuggling of Rosewood.
"I can confirm that harvesting of Rosewood doesn't happen in the District. Builsa South is not too big a community where 20 trucks will not be spotted. We share bother with other communities and when I had the information this morning, I checked around and within Builsa South, there was nothing like that. There are communities around where this could be happening. Anybody who knows Builsa South knows that 20 trucks loaded with Rosewood cannot be hidden anywhere without being spotted. They are allegations that is why the Minister said Dr. Apaak's Constituency", Mr. Gariba noted.
Gov't sets up committee to probe Rosewood felling
Government through the Ministry of Lands and Natural Resources has inaugurated a seven-member committee to within five weeks to probe allegations of rosewood smuggling in Ghana.
This follows the US-based Environmental Investigations Agency's (EIA) publication that alleged that rosewood smuggling is rampant in the country despite a ban.
The committee will be headed by the Deputy Minister of Lands and Natural resources, Benito Owusu-Bio.
C'ttee can't be trusted – Apaak
Dr. Clement Apaak subsequently expressed fears that the government's committee set up to probe allegations of rosewood smuggling in the country may not be able to do a clean job.
According to him, the Board is made up of persons who have already been implicated for engaging in the illegality hence their commitment to get to the bottom of the matter is questionable.
….these elements of that political party are beneficiaries of this illegality; then that certainly tells you the quagmire that the Minister finds himself in. That is why I would have thought that in all honesty, the committee should have been formed outside of all the entities and ministries that have been implicated as far as the EIA report is concerned. You can't have the same entities to investigate allegations made against them, it will simply not give room for a thorough, honest and proper investigation and that is my biggest worry", he noted.
---citinewsroom