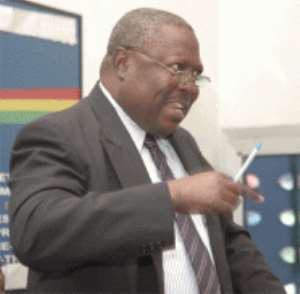 Martin Amidu
Hon Martin Amidu, a proven man of integrity, earned a public accolade from the majority of Ghanaians following his no-nonsense attitude to corrupt practices by government officials and their cronies and civil service personnel. He saw no reason why people entrusted with the mantle to rule Ghana, or entrusted to ensure the collective welfare of Ghanaians, their protection and safety, be seen to indulge in repugnant corrupt practices that have the potential to rather ruin the lives of Ghanaians and also, tarnish the image of Ghana and the reputation of Ghanaians.
Subsequently, he never hesitated to take on Mr Alfred Agbesi Woyome, when it came to light that he had in collusion with then Attorney General Mrs Betty Mould-Iddrisu swindled Ghana of GHS51.2 million. Taking on Alfred Agbesi Woyome, who was the self-styled sole financier of the National Democratic Congress (NDC) political party that was then in government under the presidency of the late His Excellency Professor Evans Fiifi Atta Mills, posed dangers to his person and position in government as the replacement Attorney General for Mrs Betty Mould-Iddrisu. However, he did pursue his quest to save Ghanaians from the obvious complicity by the NDC as a political party to rob the nation in a broad daylight. He was sacked by President Atta Mills for daring him when he was rather expected to allow the corruption by Alfred Agbesi Woyome brushed under the carpet.
He was given the accolade "Citizen Vigilante", following his resolute determination to do what is gloriously expected of any sensible, selfless and dedicated person who has vowed to be of service to his people and country.
Many a Ghanaian agreed that nobody would do the job of the Special Prosecutor better than Hon Martin Amidu considering his past as briefly narrated above. Not even Rockson Adofo, the author of this very publication, who was sued for contempt of court following his attempts to compel Alfred Agbesi Woyome to cough up the huge sum of money he had so dubiously, collusively taken from Ghana before Hon Martin Amidu waded in to take the bull by the horns.
Read the contents of the links below to see how Rockson Adofo had, or has, been a candid critic of Alfred Agbesi Woyome.
http://www.peacefmonline.com/pages/politics/politics/201204/106322.php
http://www.peacefmonline.com/pages/politics/politics/201207/124327.php
Ever since the post of the Office of the Special Prosecutor was conferred on Hon Martin Amidu, he seems not to be the old adorable Mr Martin Amidu that I knew of. He is now a completely changed man. He seems to have lost his vigour and probably his fighting and moral bearings in the prosecution field. He is dragging his feet too slowly in dealing with the corrupt officials that he once hated with passion. What has gone amiss, my fellow corruption fighter, Hon Martin Amidu, if I may ask?
Hon Martin Amidu has no convincing excuse not to do the job. Has he been bewitched by the perceived corrupt officials? Has he been influenced by some powerful traditional leaders to go it softly, but not harshly, on the corrupt individuals because fighting corruption is not by rush but slowly? Has he become corrupted himself if I may be bold enough to ask? Have his secret political persuasions and affiliations mitigating against his spirit to continue to fight corruption as contrarily expected of him? Many questions come racing through my mind but I will limit myself to the few already posed.
Corruption is the bane of the socio-politico-economic emancipation of Ghana in particular, and Africa in general. Until Ghana is able to deal a deadly blow to the head of corruption, the country shall never develop and the people shall never earn any international respect but spite and derision. We shall forever be mired in poverty with the country mocked as a shithole and the people relegated to the status of subhuman.
His Excellency Nana Akufo-Addo has done his part by creating the Office of the Special Prosecutor charged with investigating and dealing mercilessly with reported corrupt officials. He has appointed a renowned hater of corruption in the person of Citizen Vigilante Hon Martin Amidu to head the office. It is now duty-bound on Hon Martin Amidu to deliver without any further ifs and buts.
For all that I know, there are Members of Parliament who doubled as Government Ministers in the former NDC administration under former President John Dramani Mahama who took double salary. The evidence is there black and white for all to see. The Auditor General can provide Hon Martin Amidu with the proofs that he may need. Unless he tells me that their actions are not criminal in nature to warrant his investigation and prosecution, he must go after them, to prosecute them without any further delay.
The public is getting more angry by the day at the NPP Government's failure to begin to prosecute let alone, successfully prosecuting any of the publicly known and suspected corrupt government officials and civil service heads. However, the president has done his bit by empowering the Special Prosecutor to do that job. For fairness sake, the president does not want to interfere, and must not interfere, with, the role of the Special Prosecutor. Having said that, the Special Prosecutor must not see himself as being able to do whatever he likes, doing things in his own time whether the president or Ghanaians like it or not.
I for one, am not happy about the slow, tortoise pace at which the Special Prosecutor is going about his job, although he needs ample time to investigate properly, obtain the necessary documental proofs before arraigning any suspected corrupt official before a judge. That notwithstanding, he should not be given years to do his investigations before prosecuting anyone as Ghana already abounds in many corrupt past and present government officials.
I am beginning to have my doubts about the Special Prosecutor but for the meantime, I shall give him the benefit of the doubt.
Time is running out. Time and tide wait for no man. Hon Martin Amidu, please act now to remove the doubt in the minds of people about your credibility as the Special Prosecutor. I trust you can do the job so please do it to bring back smiles on the faces of your admirers of whom the author of this publication is one.
Rockson Adofo
Monday, 26 August 2019