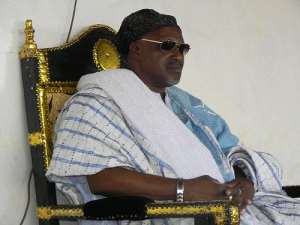 Dakpema
The Police in Tamale have invited Dakpema, the market chief of the regional capital, over a tape which showed a couple being beaten on his alleged orders in his palace.
The Criminal Investigations Department (CID) in the regional capital is seeking the whereabouts of the suspects in the beating incident whose video have been widely circulated through social media.
The video showed the couples being flogged after they allegedly circulated their sexual act on social media.
The letter issued on Saturday August 24, 2019 and signed by Northern Regional Crime Officer of Police Service, Sup/Mr. K Otuo Acheampong, pointed out the command's observation of the video which necessitated the Dakpema's assistance in identifying those involved in the flogging, for the necessary police investigation.
The police correspondence to the Chief suggests their readiness to initiate criminal investigation into the case.
Meanwhile, residents in the Northern Region have expressed anger over the police invitation to the chief, which for them is a mark of disrespect for their tradition.
Some of the youth in the palace have expressed their readiness to resist any police action.
---Daily Guide