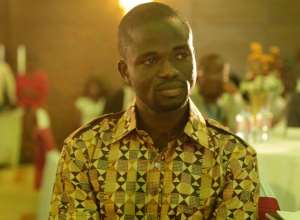 Manasseh Azure Awuni
"Gluttony and idleness are two of life's great joys, but they are not honourable" — Julie Burchill
I saw the promo on Facebook and other social media networking sites. It was appetizing but I resisted the temptation to watch it. I told myself it was going to be another 'militia' documentary so I needn't waste my time. I therefore did not watch the "Contracts for sale" documentary when it was first aired last Wednesday night.
How wrong I was! I woke up the following morning to the news that the documentary was very revealing. Comments from my Facebook friends, predominantly from the Elephant stock, pointed to the fact that Manasseh had done a good job.
I therefore searched for the video online. Really and truly, it was a masterpiece from Manasseh. It was far better than the apology of a documentary titled, "Militias in the heart of the city." As I watched the climax of the documentary, I couldn't help but soliloquize, "This is indeed the work of the Manasseh we know."
I've since watched the video about three more times and I've always come to the same conclusion. It will take a miracle for the beleaguered Public Procurement Agency (PPA) boss, A.B. Adjei, to untangle himself from the Manasseh web. The reason is very simple: Manasseh has tightened all loose ends.
The 'inevitable question' by Manasseh (36:36 mins) to Mr Adjei was the last straw that broke the camel's back. He initially denied being a director of TDL, saying it belonged to a cousin. But when confronted by facts from Manasseh, he finally agreed being a co-director of the company with his brother-in-law; and not his cousin.
Frankly, I sympathise with Mr Adjei. Perhaps, it is because he is a replica of my late father. Both his physical attributes and mannerisms remind me of my 'old boy' who joined his ancestors in 'Samanfoland' some 28 years ago.
I can only imagine the pain of his family in these trying times. It is bad enough to be exposed for alleged wrongdoing. But to be caught on tape struggling to lie through one's teeth is the greatest embarrassment one can be made to endure. Towards the end of the interview, the man was literally sweating in an air-conditioned room and obviously praying for the ground to open and swallow him up. (Don't ask me how I knew the air condition was on.)
Manasseh was clearly at his predatory best. As the alligator snapping turtle uses its pink worm-like tongue to lure fish right into its mouth, so did Manasseh lure Mr Adjei to feel comfortable at the beginning only to strike when he least expected it.
Manasseh must be applauded for the patriotic act. I doff my hat to him for another attempt to shed light on nocturnal activities that could wreck this great country. For sure, such courageous and patriotic deeds will serve as a deterrent to many corrupt public officials.
But as we commend him, we must also remind Manasseh that he is but human and bound to make mistakes. So he should be humble enough to admit his mistakes and accept criticism. For those of us shouting 'hallelujah' today were the same people who screamed 'crucify' him when he churned out the pathetic 'militia' documentary. Indeed, we are very discerning political animals; and not zombies.
I'm particularly impressed at the reaction of the Elephant family on the matter so far. With the exception of Hon. Ken Agyepong, no one has blindly defended the beleaguered PPA boss. They are collectively saying the chips should fall where they may, no matter whose ox is gored.
That is the way to go, isn't it? When appointees engage in an act that casts a slur on their integrity, office, party and government, it will be foolhardy to support them. After all, they did the 'nyafu-nyafu chopping' alone, didn't they?
The President's referral of the matter to Commission on Human Rights and Administrative Justice (CHRAJ) and Office of the Special Prosecutor (OSP) is also very commendable. If previous allegations had followed same route, I wonder if the perception of corruption about the Nana Dee government would be as high as it is now. The ball is now in the hands of CHRAJ and OSP and we believe they will do a very good job.
As for the appointees with insatiable appetite, let them be reminded that the glutton who eats too much meat and drinks its soup, will be the only one to wake up in the dead of night to attend to nature's call.
See you next week for another interesting konkonsa, Deo volente!