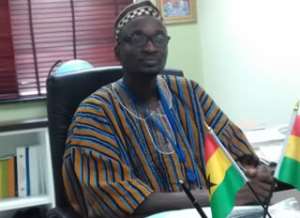 Hon. Alhassan Mumuni
It is absolutely imperative to critically examine and outline the work done by Hon. Alhassan Mumuni in the Salaga North Constituency. In the space of less than 8years, what began as a mere dream and a thought has metamorphosed into reality.
To start with, the perception of Hon. Alhassan Mumuni not being a human development-oriented person or leader touches my heart and in fact I feel sorry for those people with that perception. In any event do they boarder to know what the meaning of human development is? Or they just don't want to appreciate the good works done by the Hon. Member?
Kindly advert your minds to the fact that, the constituency can now boast of 3 policemen and a prison officer. And it was through the efforts of the man "who does not want to develop human resources".
Through same man, students with requisite qualifications in the constituency got admissions to various Colleges of Education and Health Assistant Training Schools to further their education. Just don't want to mention names. And his unmeasurable support for these students cannot be underestimated.
As a student of human resource management myself, if the above mentioned does not constituent human development then the Doctors who taught me are…………
I believe in the systems approach to management or leadership, where there is a situation in which the whole is greater than the sum of its parts. i.e Synergy. People who can help develop us should kindly do so and shouldn't wait until they develop interest and ambition to contest for the seat. He alone cannot provide or help everybody at the same time. He needs some kind of complement in the so call "developing the human resources".
However, for your perusal, I have carefully and systematically analyzed what you said he couldn't do in his days as DCE to date.
In the area of EDUCATION, the following communities have benefited from the school projects in the constituency. The projects are a three-unit classroom block each in the Tunga, Zankum, Kpandu and Vogyili as well as a six-unit classroom block each at Dakpemyili, Kpanshegu, Tantuani and Gbung. Etc. He ever provided motor bikes to all the circuit supervisors to aid in their supervisory role in order to effectively enhance teaching and learning in the constituency.
ENERGY: The following communities benefited from the National Electrification Programme. Nyamaliga, Fuu, Gbung, Kpalbe, Kpalbusi, Jindanturu, Bunjai, Kabache 1&2, Dashei, Dabogshei, Kpandu and Wulanyili. 250 streetlight lamps were procured by him to be mounted in communities that have been connected to the national grid.
HEALH: In helping to send health care to the doorsteps of his constituents, Hon. Alhassan Mumuni provided Community Health Post Service (CHPS) compounds in Kpanshegu, Kpinchilla, Fuu and Lantinkpa communities. And plans were far advanced to provide same facility to the people of Nyeshela. He also presented a tricycle to be used as an ambulance for the Kpanshegu CHPS compound as well as a double-decker Nissan pickup to the Kpalbe health centre to help facilitate referral cases. Notwithstanding, plans were afoot to upgrade the Kpalbe health centre to polyclinic in order to attract the requisite professionals to deliver quality health service to his constituents.
AGRICULTURE: In partnership with the Presby Mile 7 Project, a rice processing plant was provided to the people of Dabogshei and its enclave to aid the farmers in that regard.
ROADS: Vogyili/Kpandu road, Gbung/Nomnaayili road, Changbuligu/Kagbrashe road, etc
Just what I can remember within 30 minutes is what I have provided to wake our accusers from their nightmares.
Lastly, he built a police station at Kpalbe, which among other things aided us to be considered for the District status.
So to create the impression that he has done nothing as DCE/MP is fallacious and mischievous intended to paint him black.
I am pretty much convinced that by dint of hard work, sincerity of purpose and the determination to succeed in taking Salaga North Constituency to the promised land, all and sundry will support him devoid our political affiliations and stop these needless accusations and counter-accusations.
Thank you.
Signed: David Alhassan
A concern Constituent
Salaga North Constituency
0247303411
TO BE CONTINUE…