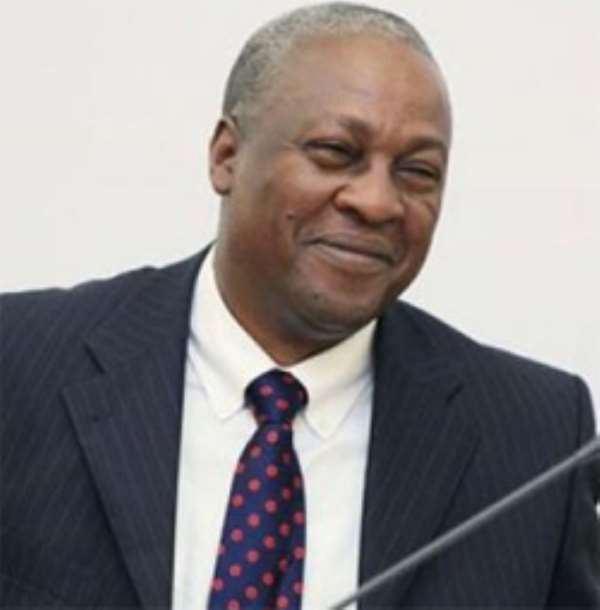 The primary purpose of this write up is to appeal to ex-president John Dramani Mahama (JDM) to settle on either Dr. Kwabena Duffuor or Dr. Kwesi Botchway as his running mate to resuscitate the collapsing banking sector. Governance is a serious business which requires an experienced hand or a technocrat. My concern is beyond partisan interest. Dr. Bawumia is also an accomplished technocrat who is equally needed. Whichever political party wins in 2020, there must be an economist to head the economic management team, not a chartered accountant. "Former President John Mahama in a Facebook live video Thursday, addressed the country's growing challenges in the financial sector. The opposition NDC leader who is gunning for a return to power in 2020 shed light on the revocation of licenses of the nine banks and 23 savings and loans companies. The situation which has led to mass job losses and mistrust in the country's financial sector is a development that is worrying the former leader" (MYJOYONLINE.COM, August 22, 2019). Both President Obama and President Trump had experienced vice presidents in 2012 and 2016, respectively.
No country in the world, developed or developing is free from the financial or banking field crisis — for example, the banking industry insolvency crippled Asian countries in 1997/98 (Ariff, Skully & Ahmad, 2007). In 1980, the United States encumbered challenges in the savings and loans industry. Sweden and Norway suffered from the crisis in the banking sector in the 1990s. In 2002, the Central Bank of Malaysia (CBM) introduced an intervention known as a guided merger as a reform to ameliorate the country mentioned above's banking sector credit crunch (Ariff, Skully & Ahmad, 2007). The Malaysian Central Bank consolidated all 54 domestic deposit-taking institutions into ten large-capitalized banks akin to Akufo-Addo led New Patriotic Party administration minted Consolidated Bank Ghana.
The term guided merger implies a decision implemented by the regulator rather than the market. Under the guided merger, a bank most likely to be insolvent was regulated by the central bank to merge with a larger bank (Ariff et al., 2007). Ariff, Skully, and Ahmad (2007) investigated two fundamental hypotheses that informed a guided merger implemented by CBM. The efficiency improvement hypothesis, which states that merger may improve efficiency especially when stronger and competently managed banks acquire a weak, and carelessly supervised banks. Risk reduction hypothesis, which asserts that the risk of becoming insolvent will be averted if efficiently managed banks acquire weak depository institutions. The afore-cited researchers found that guided merger was inconsistent with efficiency improvement hypothesis but consistent with the risk reduction hypothesis. These empirically tested findings imply that Consolidated Bank Ghana can only decrease the risk of the acquired weak banks becoming insolvent but cannot guarantee efficiency if the Bank of Ghana failed to monitor religiously.
Liquidity risk (LR) is a threat emanating from a bank's inability to meet its obligations when they come due without incurring unacceptable losses (Ariff & Nauman, 2012). LR can negatively affect both the bank's earnings and the capital (Ariff & Nauman, 2012). Thus, it is increasingly necessary for bank managers to ensure the availability of sufficient funds to meet future demands of providers and borrowers, at reasonable costs (Ariff & Nauman, 2012). Large-scale withdrawal of deposits may create a liquidity trap for banks, but this may not always be the only source of liquidity risk (Ariff & Nauman, 2012). Long term lending and significant commitment issues could create liquidity risk (Ariff & Nauman, 2012).
Although the Bank of Ghana (GoB) as a lender of last resort has every right to take appropriate regulatory decisions, the imperative need for GoB prioritizing preserving indigenous banks, must not contend. Clamping down on insolvent banks must be the last resort. I will typically endorse the early intervention such as a guided measure though not bereft of drawbacks. We must read the beginning of the 2011 Arab Spring in Tunisia and relate to President JDM's comment as to whether banking crisis can pose a security threat or not. Whoever wins the 2020 election must pursue mercantilism (Economic theory that the country's strength is contingent on accumulated wealth increase export and discourage import) seriously. Dear President Akufo-Addo and ex-President JDM, I believe looking into commercial cotton production in northern Ghana will help Ghana increase export. An only small portion of Mali's land is agriculturally viable, yet cotton export is the backbone of the Malian economy! What are we doing with the massive landmark in northern Ghana? Both leading politicians must factor cotton export into the 2020 manifestos.
Ghana needs, national employment commission to replace public services commission comprising industrial and organizational (I-O) psychologists, human resource management experts to conduct assessment screening for employees for both public and private banking sectors and all state institutions. Many accounting, banking and finance, commerce, management, economics, and I-O psychology graduates are not getting jobs, whereas individuals with unrelated degrees get hired in the banking sector in Ghana. Some managers of state institutions under-declare vacancies waiting for their kids in high school to graduate and employ them. It is increasing unemployment. Once again, JDM must settle on either Dr. Botchwey or Dr. Duffuor as President Akufo-Addo will settle on Dr. Bawumia. Building a strong economy is not a joke; thus, one needs an experienced technocrat to lead the economic management team. Shalom!
By Nana Yaw Osei, Minnesota, USA, [email protected]
Reference
Ariff, M., Skully, M. T., & Ahmad, R. (2007). Factors determining mergers of banks in Malaysia's banking sector reform. Multinational Finance Journal, 11(1/2), 1-31.
Arif, A., & Nauman A. A. (2012). Liquidity risk and performance of banking system. Journal of Financial Regulation and Compliance, 20(2), 182-195.