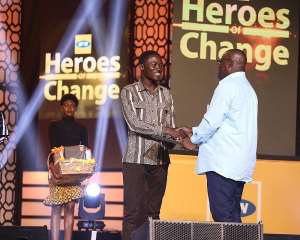 Empathy is one of the requisite core values that drives love and kindness. It basically shifts the narrative, "I understand how you feel to I feel how you feel."
David Hagan who was recently among the winners of MTN Hero of Change Season 5 understood the power of empathy. Mr David contributed to the promotion of health in the country through Galaxy Foundation situated in Obuasi- Ashanti region. His journey of hope targeted the marginalized in the society. From a humble background, he imbibed in his heart the words of Martin Luther which says, "faith is taking the first step even if you don't see the whole staircase."
He was fatherless at a very tender age. These vicissitudes of life suppressed him, but he never threw his faith away.
He recalled how things changed so rapidly after the death of his father. To the extent that they had to beg relatives and good friend for their daily bread. His jobless mother at that time struggled to fend for him. Yet, he preserved to be the change he wants to see.
David's life took a twist during a powerful encounter that set his passion ablaze. One day, he was walking by the roadside and saw a young girl with her mum begging on the street. This encounter gave him a better perspective of life. Out of this he birthed Galaxy Foundation, which has undertaken numerous works in shaping the lives of people in the country.
Since the inception of the foundation has conducted free surgeries for over 230 needy people living in rural Ghana. Free medical screening to over 7,000 deprived communities and orphanages. Ashan orphanage, Abosamso orphanage, patmos orphanage, adullam orphanage in the Ashanti region and Osu orphanage in the Greater Accra Region benefited from the free health screening exercises. Deprived communities: Brenu Akyinim, Ayensudu in the Central Region also benefited from the free health screening.
Galaxy Foundation is funded by donations from friends, churches and other stakeholders in cash and kind. The medium used frequently to reach the donors in mobilizing resources is social media. In their recent development, surgeons have subscribed to the vision to perform various surgeries at a discount (usually half) as part of their support.
For David, this is a deeper calling urging us to keep our focus on doing good to people who are being sideline in our society. His entire journey of making a difference affirm the words of Winston Churchill, we make a living by what we get and make a life by what we give.
You can be part of this change by following us on;
Website: www.galaxyfoundationghana.org
Facebook: galaxyfoundationghana
Twitter: galaxyfoundationghana
YouTube: galaxyfoundationghana