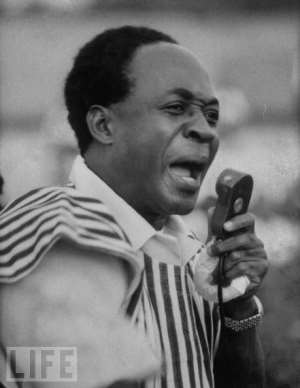 Nkrumaists need to be relaxed about the revisionists trying to change Ghana's history. It is a mission impossible. As they struggle to fulfill their manifesto promises, those now in power, who constantly seek to belittle President Nkrumah's achievements, must now realize that what he was able to do for our homeland Ghana during his tenure, was astonishing. Thank goodness for small mercies - today, the progeny of yesteryear's lackeys of neocolonialism, see the wisdom of import-substitution industrialization.
And, are many of them not cock a hoop that continental free-trade, will soon become a commercial reality-on-the-ground - with Nkrumah's Ghana hosting the continental free-trade trade area's secretariat? Sarjewah. The question is: What discerning and independent-minded Ghanaian isn't aware that that has happened, because of the tremendous goodwill, which Nkrumah's commitment to Pan-Africanism continues to generate for Ghana, across the continent?
Furthermore, as we speak, are some of those now in power - whose political forebears condemned Nkrumah's anti-terrorism legislation that prescribed detention without trail for the bomb-throwing cowards who sought to murder Nkrumah throughout his years in power - not busy packing our secret services with brutish pro-New Patriotic Party ( NPP) myrmidon-thugs, to enable them intimidate their political opponents, maim those who speak truth to power, and, worst of all, engage in stealth-extrajudicial-killings, allegedly? Hypocrites.
Is that how politicians who believe in democracy, and are committed to the rule of law, carry on? Ebeeii. Hmmmm, Oman Ghana. Asem kesie ebeba debi ankasa.Finally, knowing how hypocritical many of them are, some of us are not in the least bit surprised at all that today, despite claims that ours is a free society, we are witnessing the arrogance and intolerance, of criticism-averse NPP politicians, who are exhibiting all the signs of being drunk with power. No matter what lengths they go to, today's revisionists of Ghana history will fail, for Nkrumah's impact on Africa can neither be erased - nor photoshop airbrushed. Full stop.