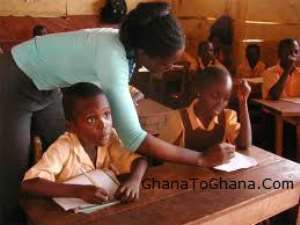 "In educating a nation's citizens,"The Faculty" of the nation's academic institutions must be allowed to act as leader, anchor and driver. Teachers' competence, visibility, leadership, and exemplary performance, define educational institutions. Any talk of educational 'greatness' and 'vibrancy' must start with the "Faculty"."
"Know and understand your past. Celebrate the successes, and learn valuable lessons from identifiable shortcomings. That's an important source of motivation for building upon the past."
"We shall propose that Adisadel College and the Santaclausian Family embark on fundraising to establish a $1,000,000 ( one million Dollar) Endowment Fund."
"There is a need for a 'renewed' national push to encourage Secondary School Faculty to enhance and upgrade their academic and teaching skills and maturity by working towards a Masters Degree in their disciplines."
INTRODUCTION.
Education is job number one in the serious enterprise of nation-building. Prosperous, developed, and admired countries are the ones with a well-educated citizenry. It's the ones whose educational systems consistently rank high in global rankings of educational quality.
The socio-economic transformative power of education in a nation is well known. There is an oft-quoted proverb attributed to the Chinese: "Give a man a piece of fish, and you will need to feed him for life. But teach a man to fish, and he can feed himself for the rest of his life". "A mind is such a terrible thing to waste", is often proclaimed on bumper stickers and in socio- cultural advertising media.
The purpose of this paper is to comment on, and highlight, the important role of "The Faculty"(i.e. the Teaching Staff) in educational institutions. We shall draw on the experience of a specific second cycle educational institution from a specific historical period in Ghana, namely the Adisadel College in the 1960s.
It is said that in life, in order for any group of people to see clearly its 'collective way' forward, it needs to know where it has been.
In other words:
Know and understand your past. Celebrate the successes, and learn valuable lessons from identifiable shortcomings. That's an important source of motivation for building upon the past.
Currently, Secondary Schools, such as Adisadel, are soul-searching their future . How can Adisadel College, a leader among second cycle institutions in Ghana, 'recapture' and sustain its vibrancy.
This assumes that Adisadel still remains a government institution. By that, we mean the Government provides a substantial portion of the School's financial support. Government pays Staff salaries and benefits, subsidizes student fees, and provides key physical infrastructure, such as classrooms and dormitories.
By "Faculty", we mean the School's Teachers and the very top Administrative Staff. In fact, the education community around the world considers 'Faculty' of any institution( from Kindergarten to Postgraduate) as the institution's leader and anchor. Teachers' visibility, leadership, and exemplary performance, define the institution. Any talk of 'greatness' and 'vibrancy' should start with the Faculty.
In this lecture, we shall deal with the following issues. :
Show examples of excellence at Adisadel, drawing from the 1960s' experiences. Draw on the past to power the future.
Stress the dominant role by The Faculty, led and personified by The Headmaster.
Point to the crucial need for the Government to team up, in good faith, with Alumni and the Church to appoint a highly qualified Headmaster. Such a Headmaster must have tremendous academic stature. Government, the Church and Alumni must then allow him room to innovate. If that happens, he can power the institution to the most desirable goals of vibrancy, academic and extracurricular excellence, and discipline among students and Faculty. "The buck stops with the Headmaster".
We shall draw on the experiences of Adisadel Headmasters T.J. Drury( 1959-63)[MA Cantab], and R.T. Orleans-Pobee( 1963-74)[BA London, M.Ed Springfield]. The history of Adisadel shows that , the idea of strong and dynamic Headmasters was the norm from Adisadel's founding in 1910 up until the 1980s.
AN ENDOWMENT FUND
We shall propose that Adisadel College and the Santaclausian Family embark on fundraising to establish a $1,000,000 ( one million Dollar) Endowment Fund.
CELEBRATING THE PAST, AS MOTIVATION AND INSPIRATION FOR FUTURE. ADISCO'S GREATNESS IN THE MODERN ERA.
There are two reasons why this presentation draws on 1960s to tell the story of institutional excellence at Adisadel, powered by a supremely dedicated Faculty. First, Adisadel achieved tremendous success in the 1960s. Secondly, the author had his experiences as Adisco student in the 1960s. One can testify best on what one has actually experienced.
ACADEMICS AND THE ADISCO STORY.
The decade of the nineteen sixties at Adisadel could arguably be called " a combined golden age of science, mathematics, and music" in Ghana's second cycle institutions. And Adisadel was firmly "either the first or with the first". Ghana's "Independence" from Great Britain in 1957 had ushered in self-government and a broad-based spirit of national self-determination. There was exuberance in the nation. The whole nation had come to believe that science, technology and industry held the key to Ghana's future socio-economic development and prosperity.
MATHS & SCIENCE, FOUNDATION FOR SUCCESS; THE 'ASPAU' SCHOLARS
In 1967, Ghanaian students from all over the country competed for eleven scholarships to study science at some of the most prestigious American Universities. Adisco students won five of those eleven slots. That scholarship program was named "African Scholarship Program for American Universities(ASPAU). It was administered by the African American Institute of New York on behalf of the US government, a group of US Universities, and African Governments.
Incidentally, during the two previous years (1965/66), the same ASPAU scholarship program had sent three other Santaclausians to the United States to study at prestigious universities.
1960s SANTA STARS AT THE UNIVERSITY OF GHANA, LEGON, AND BEYOND.
Apart from the ASPAU Scholars, who went outside Ghana for University education, the 1967 Adisco A-Level group which started their University education in Ghana, counts among itself, numerous highly accomplished Scientists and Medical Practitioners and Specialists, as well as Engineers.
The academic prowess in science of some of the early 1960s Santaclausians has also been eloquently chronicled by Rev. Prof. John S. Pobee. Writing in his comprehensive, fascinating, and captivating book titled: "Adisadel On The Hill—The Story (1910-2010), published by Sam-Woode Ltd., 2010, he points out on pages 137 and 138 that:
"In 1969 the Ghana Medical School produced its first 37 Medical Doctors. Seven(7) of these were Adisadel College Old Students, namely: 1. Dr. J.T. ENIM; 2. Dr. YAW ADU-GYAMFI; 3. Dr. J.K.L. METTLE; 4. Dr. E.K. AHINKORAH; 5. Dr. E. A. KISSI; 6. Dr. J. TWUM; 7. Dr. C.S. GRANT. "
INSTITUTIONAL GREATNESS: HARMONY AND TEAMWORK.
Now, looking into the future, what role should the Faculty expect to play in order to foster and maintain vibrancy in a second cycle institution like Adisadel?
Great and distinguished academic institutions are known and defined by THREE INTERLOCKING ATTRIBUTES:
The School's outstanding human and material resources, most notably, its FACULTY.
The quality of its ALUMNI(the School's products) and the BOND that exists between the Alumni and the School, and
The quality, promptness and regularity, of the material support it receives form key Stakeholders like Government and the Church(in the case of sectarian institutions).
THE FACULTY, THROUGH ITS LEADER, AS THE MAIN 'DRIVER' OF THE INSTITUTION.
At a Second Cycle School, such as Adisadel College, 'The Driver or Prime Mover' of the institution, is the HEADMASTER, who is at once Chief Academic Officer and Chief Administrator. From its founding in 1910 until around the late 1980s, Adisadel seemed to have operated in the following manner:
The "buck stopped with the Headmaster." He had freedom and independence. He was allowed room to innovate and produce results( examples: Drury and Orleans-Pobee)
Up until, and including the tenure of R.T. Orleans-Pobee( 1963-74), an Adisadel Headmaster typically had a very high, quite above average, formal academic qualifications. He typically had a Masters Degree, and had met other important criteria. For many decades, it seemed the most common qualification for an Adisco headmaster was a Masters Degree from a prestigious University!. Adisadel Headmasters held Masters Degrees from Oxford, Cambridge, Springfield, London. A Masters Degree provided the Headmaster with a higher level of academic and intellectual experience, development and credibility. This must have helped to facilitate his efforts to innovate and lead the Faculty.
According to Adisadel's on-campus "Canterbury Hall of Records", from the year 1910 to 1974, out of fourteen Adisadel Headmasters, ten of them had a Masters Degree or higher, with one having a Doctor of Theology. Significant numbers of the Teachers had Masters Degrees. An Adisadel Teacher of Classics in the 1960s, Dr. McQueen, had a Doctorate!
The Headmaster was expected to have very high expectations of himself, his Staff and Students. He was to be innovative and creative. He was to maintain, and exceed, Adisadel's nationally acknowledged excellence and leadership in academics, extracurricular program, discipline and well-rounded students' development.
In summary, the winning formula for Adisadel, as this author seems to have observed with Headmaster T.J. Drury( 1959-1963) and with Headmaster R.T. Orleans-Pobee( 1963-74) was this. Drury and Orleans-Pobee had tremendous freedom and latitude to lead. And in return, they delivered unprecedented results over a combined fifteen year period of their leadership. They were not allowed any excuses, and they offered none. And the model worked like a charm. From, at least, the author's own anecdotal evidence, and from what others have reported, this model brought out the best in Adisadel for many decades.
BACK TO THE FUTURE. MAINTAINING EXCELLENCE.
The Santaclausian Family, therefore, is currently soul-searching, looking to rekindle its vibrancy. For that to happen, Adisadel must rediscover its heritage from 1910 to the 1980s. That heritage is symbolized by:
A Faculty, led by the Headmaster, with outstanding academic qualifications.
Academic independence, creativity and dedication
Harmonious and seamless collaboration among the constituent parts, namely Faculty, Government, The Church, and Alumni Association.
Government dutifully provides full support for Staff salaries and benefits, significant( not necessarily one hundred percent) student fees 'support'.
Government provides support for some of the key infrastructure( classrooms).
Government allowing the Faculty, led by the Headmaster, within established national legal limits, academic and administrative freedom to innovate and be creative.
Government holding the Faculty accountable for very high academic and disciplinary standards.
The Alumni, with support from the Church, providing significant financial support to fill in the infrastructural deficit caused by expected insufficiency of government funds. Thus Alumni and Church built Dormitories, Classroom blocks, Laboratories, Libraries. Alumni and Church provided financial support for academic support to enable innovations in curriculum development and extra- curriculum enrichment.
OBSERVATIONS ON THE SUBJECT OF 'GIVING BACK' TO ONE'S ALMA MATER.
Adisadel College was founded by the English Missionary Group "Society for the Propagation of the Gospel"( SPG). So, when it comes to giving back to their Alma Mater and society, it is no surprise that the School's Alumni have always taken their cue from the good Book:
Luke, Chapter 12 Verse 48( Luke: 12:48):
"For unto whomsoever much is given, of him shall be much required; and to whom men have committed much, of him they will ask the more."
And so it is that when Santaclausians reflect on our tremendous successes here in Ghana and around the world, there should be no limit to what we should expect from ourselves when it comes to giving back to our Alma Mater.
ADISCO NEEDS AN 'ADEQUATE' ENDOWMENT FUND
In order for Adisadel to continue to be "either the first or with the first", it must establish and maintain an 'adequate' Endowment Fund. An Endowment Fund is "the gift that keeps on giving". It is the very foundation for innovation and excellence for highly regarded secondary and tertiary institutions around the world. Adisadel must continue to lead Ghanaian second cycle institutions into the second half of the 21st Century. Santaclausian, led by the ALUMNI, must endow the School with some 'adequate' Endowment Fund.
HOW DO WE 'UP OUR GAME'?
THE ADISADEL "TARGET YEAR 2022 ENDOWMENT FUNDS CHALLENGE" :
TARGET 2022: CREATE, OR INCREASE,
ENDOWMENT FUNDS.
TARGET DATE: 112TH ANNIVERSARY SPEECH DAY 2022
AOBA-NA/ADISADEL FOUNDATION, USA …..… $500,000
TARGET AOBA-GHANA/GLOBAL TO : $500,000 TARGET
BACKGROUND INFORMATION FOR COMPARISON; TRAVEL AND SEE :
ENDOWMENTS AT TOP U.S. UNIVERSITIES: ( From Google Search)
HARVARD UNIVERSITY: $36.4 BILLION
YALE UNIVERSITY: $23.9 BILLION
ENDOWMENTS AT TOP FULLY PRIVATE U.S HIGH SCHOOLS: (From Google Search)
PHILLIPS EXETER ACADEMY, NEW HAMPSHIRE: $902 MILLION
PHILLIPS ANDOVER ACADEMY, MASS.: $800 MILLION
LAWRENCEVILLE SCHOOL, LAWRENCE, N.J.: $320 MILLION
CULVER ACADEMIES, CULVER , INDIANA: $322 MILLION
THE INSTITUTIONAL ENDOWMENT FUND SCENE IN GHANA:
UNIV. OF GHANA, LEGON: AFTER 70 YEARS, ONLY RECENTLY ESTABLISHED AN ENDOWMENT FUND..
TARGET AMOUNT: $50 MILLION & GHS500 MILLION
DATE LAUNCHED( FUNDRAISING BEGAN): MAY 7, 2018
TARGET DATE( TO REACH FUND TARGET): YEAR 2024
PURPOSES:….
GRADUATE TEACHING & RESEARCH, EQUIPMENT, WORK SPACE
GHANAIAN HIGH SCHOOLS COULD PERFORM 'WONDERS' WITH ENDOWMENTS:
Lack of endowments means unavailability of modest but valuable funds for fixing day-to- day simple maintenance problems of plumbing, electricals, painting of Dormitories and Classrooms. Small amounts of money from growth-oriented endowment funds go a long way. They provide and replenish inexpensive but academically important laboratory materials and equipment.
A $200 initial problem quickly becomes, in two years, a $2000 problem! A tenfold increase!
Endowments are perfect for taking care of modest academic needs. These are student incentives and educational improvement aids. They have high payoffs in promoting academic excellence, providing library books, and paying for subscriptions for IT( Information Technology) infrastructure.
COMPARATIVE INFO ON ENDOWMENTS FOR AMERICAN PUBLIC SCHOOLS.
USNews And World Report ; By Allie Bidwell , Staff Writer Jan. 30, 2015
"U.S. High Schools, Cities Turning to Endowments for College Scholarships"
"Typically, ( in the U.S), when public schools do establish endowment funds on their own, the returns are more likely to fund field trips, extracurricular activities, school maintenance or other uses directed at the K-12 level. Over the last decade, however, more outside foundations have been partnering with cities and school districts to get into the scholarship game, says Carrie Warick, director of partnerships and policy for the National College Access Network" .
ADISADEL MUSIC ENDOWMENT FUND; A MODEST BEGINNING & EXAMPLE
The Adisadel Music Endowment Fund has been created, and fundraising is ongoing. It is a modest endowment fund for purposes of
Purchasing or replacing accessories and attachments to musical instruments.
Purchasing or replacing guitar and violin strings
Provide financial support for a variety of situations that call for modest and needed expenditures.
GHANAIAN MIDDLE SCHOOL GETS IN THE ACT OF "ENDOWMENT FUNDS".
As a pleasant aside in our discussion, the author has been made aware that a group of Alumni of Ghana's Agona-Swedru Methodist School( a Junior Secondary School) have formally established and endowed an "Agona-Swedru Methodist School Endowment Fund"! It has Board of Directors, Custodian Financial Institution and all!
CONCLUDING REMARKS.
In this paper, we have identified two broad scenarios which, when adopted, can make Adisadel recapture its vibrancy as a second cycle institution. First, is the recognition of the role of the "the Faculty" as leader and anchor for the institution.
Accordingly, the institution must adopt and project the following operating structure:
A Faculty( Teaching Staff), led by a strong, highly qualified Headmaster with outstanding academic credentials. There is a need for a 'renewed' national push to encourage Secondary School Faculty to enhance and upgrade their academic and teaching skills and maturity by working towards a Masters Degree in their disciplines.
Faculty Academic independence, creativity and dedication to the School.
Harmonious, seamless collaboration, based on mutual trust and respect, among the institution's constituent parts, namely, Faculty, Government, and Alumni.
Government to dutifully provide full support for Staff salaries and benefits, with significant student fees 'support'.
Government providing support for key infrastructure.
Government holding the Faculty accountable for very high academic and disciplinary standards.
The second idea, rather 'new', and not well-embraced in educational circles in Ghana, indeed in Africa, is the need for the establishment of an "Adequate Endowment Funds" for institutions.
Such endowment funds are not expected to be provided by the government. Endowment Funds are to be created through philanthropic support, led by the School's Alumni and other benefactors of the School. This requires that the institution engage in aggressive fundraising in an ongoing basis to supplement government funds.
Endowment Funds are crucial, among other key resources, for ensuring institutional viability, as well as for maintaining academic and other educational excellence. There is a dire need for some modest amounts of money to be made regularly available. Such funds could take care of emergency maintenance needs for physical facilities, as well as for special purpose and innovative educational needs . Such modest but crucial and timely funds must come from the growth and gains of endowment funds.
Generally, government-provided funds do heavy duty. They pay for Staff Salaries and benefits, as well as for other government-mandated institutional support(such as Ghana's current free tuition policy). A portion of the interest and growth of these endowment funds can then be used for maintenance of simple facilities breakdowns. They can pay for replacing inexpensive but crucial Science laboratory expendables, pay for Library and Classroom Internet Subscriptions, teaching aids and student academic incentives. Without such steadily available 'small funds', it is not easy to maintain, let alone improve upon, the level of academic and extracurricular excellence and leadership that Adisadel College has been associated with for more than a century.
-- Albert O. Ebo Richardson, Ph.D.,
Professor Emeritus, Electrical and Computer Engineering, California State, University, Chico.
August 24, 2019