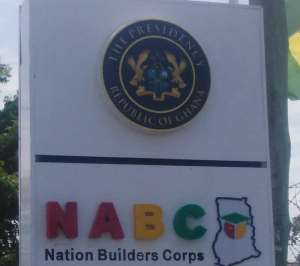 A beneficiary of the Nation Builders Corps (NABCO), Shantel Manu has criticised the unacceptable behaviour exhibited by some colleagues following a purported demonstration.
According to her, the move by these NABCO workers is a clear indication of ingratitude to the President and the New Patriotic Party's initiative of providing 100, 000 graduates with jobs.
In a piece sighted by Modern Ghana, Ms. Shantel Manu said "Why do people create problems where there are none? If you can not show gratitude to the fingers that fed you when you were hungry, at least do not bite them. How do you sit on a branch of a tree whilst cutting the same tree?"
Ms. Manu questioned the leaders of the upcoming demonstration to rather share useful ideas to improve the scheme than destroy it.
"Instead of constantly and consistently trying to destroy what the President and his government have initiated as graduates, why don't we bring onboard useful ideas to improve the scheme? Why try to sabotage the whole process and make it look as if it was non- functional and raining insults on our leaders every day. Exactly what is their crime if i may ask?" she stressed.
She continued, "I am writing this piece because i think to whom more is given more is expected. I had a wrong ezwich number used at the point of registration and didn't update my details when i had to. Now tell me how was i going to be paid? I went from coordinator to the headquarters and back to coordinator but the truth is that i was the cause of my own predicament."