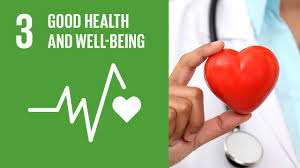 My name is Anambaam Awonnyemi Regina, a form two student of Siniensi Junior High School and I would like to discuss the topic; Good Health and Well-Being.
When we talk of good health and well-being, good health is the state of being physically or mentally strong and active or free from bodily or mental diseases. Well-being on the other hand is a satisfactory state in which you are happy, healthy, safe, and prosperous.
The Environmental Protection Agency (EPA), UNICEF, health agencies in Ghana and many NGOs have been trying to control the activities that affect our state of health which include environmental degradation like air pollution, water pollution, desertification, indiscriminate dumping of refuse, open defecation, drug abuse, poor personal hygiene and poor sanitation practices and amongst others.
These issues go a long way to affect our well-being as they result in various kinds of diseases. Some of our fishermen use chemicals in fishing which pollutes our water bodies and we eat these poisoned fishes too. Our tomatoes and other vegetable are sprayed with various chemicals to make them ripe very fast for sale. I must confess that, the food we eat today is not safe because they are not naturally produced.
Gone are the days when our forefathers used to live in a healthy and an unpolluted environment and eating naturally produced foods. How long their life span was and how energetic there they were. But as our population keeps on growing and modernisation taking place, we cannot even boost of good health neither to talk of well-being.
How do we ensure this state of good health and well-being that our forefathers used to enjoy? How do we expand our life spans? Is it possible to achieve this goal of the Sustainable Development Goals? Yes, we can, if we are all up on our feet to realize this goal.
We have stop all forms of environmental degradation and grow our food naturally. We should not use chemicals in fishing and we should be mindful of what we eat. Today there are a lot of spices on the market that we buy for cooking to enhance the taste and aroma of our food without knowing where it comes from or what it is made of. Let's go back to our dawadawa, our jong, our wogta, our saab, and stop eating processed foods and indomie all the time.
Let us take the instructions from healthcare workers serious. Sleep under our treated mosquito nets, stop abusing drugs and taking of alcohol or smoking, lets practice defecating in toilets and practice good sanitation and personal hygiene. Healthcare personnel should also continue community health education to enlighten the people about good living.
Last but not least, our government, the Environmental Protection Agency and non-governmental organisations should help provide healthcare facilities, toilet facilities, portable water, dustbins and other basic necessities to improve our state of health and well-being so that we can contribute to the development of our country and the whole world. My name again is Anambaam Awonnyemi Regina, thank you.
This article was written by Miss Anambaam Awonnyemi Regina, an immediate past student and member of the Debate and Leadership Team of Siniensi Junior High School when she was in form two. The article was presented to her colleague students at said school on 26th July 2018. Regina views our health and well-being in respect to the modern environment and compares it to the past. When there wasn't advanced hospitals and medicines yet people lived for long. She outlines the secrete behind their long lives in those days and what we in the present generation can do to acheive this goal.
Contact us via Email: [email protected]
Tel: 0241530902 / 0541350207
Like our page on facebook: https://www.facebook.com/dlt.siniensijhs/
Read More of our articles: https://www.modernghana.com/section/DebateLeadershipTeam