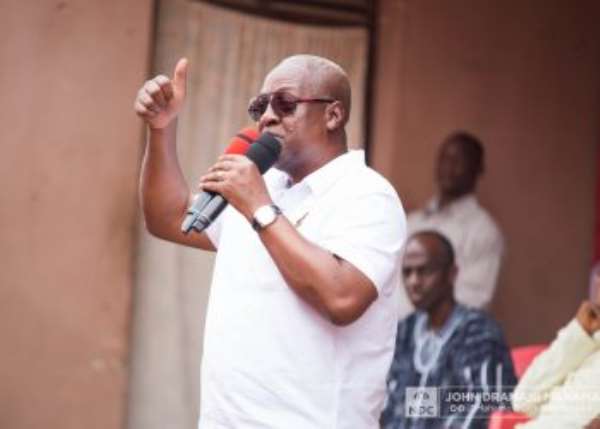 Former President, John Mahama says state agencies under the Akufo-Addo led administration are hiding behind certain regulations to stifle press freedom in the country.
A few months ago, two media houses affiliated to the National Democratic Congress(NDC) – Radio XYZ and Radio Gold were shut down for various infractions.
Mr. Mahama maintains that their closure amounts to gagging the press, and is an indictment on President Akufo-Addo.
"The authorities are hiding behind regulation and law but in the end, it is about free speech and press freedom. I believe that Nana Akufo-Addo who touts himself as a human rights advocate and an advocate of press freedom expression and free speech must feel so embarrassed about the closure of these stations."
He made the remarks while interacting with Ghanaians on social media on Thursday.
Since the closure of these stations in May, Mr. Mahama has maintained that the actions are politically motivated hence, the President's intervention will prove he is a human rights advocate.
He also believes freedom of the media is under threat under the Akufo-Addo administration because the government has failed to protect the rights and lives of journalists in the country.
According to him, the governing party's poor handling of the recent incidents including violent attacks and assault on journalists, the murder of an investigative journalist with Anas Aremeyaw Anas' TigerEye PI team, Ahmed Suale and attacks on Manasseh Azure is to blame for the drop in Ghana's media credentials on the international scene.
A group, the Free Media Vanguards' protested the closure of the stations, a plan that had the full backing of the Minority in Parliament.
Why the closure
A statement issued by the NCA on May 9, 2019, said the closures were carried out in line with Regulations 65 (1) of the Electronic Communications Regulations, 2011, L. I. 1991, which states that "a person shall not use a radio frequency without authorization from the Authority."
The NCA referenced a 2018 ruling by the Electronic Communications Tribunal on the status of FM stations with expired authorization saying companies whose authorizations had expired reverted to the same position as fresh applicants.
It added that the applications were to through the required procedure for new FM Broadcasting Authorisation refuting claims that their decision is politically motivated.
The Ghana Journalists Association (GJA) has also said the government's shutdown of some radio stations have the tendency of undermining press freedom in the country.
—citinewsroom