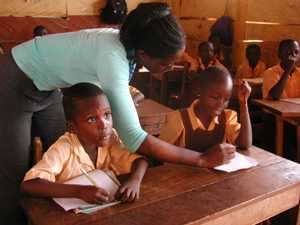 His name is Dogmalkuu K Cornelius. First of all, the way in which the writer's name is arranged does not give his reader any good sense of his ethnic and/or cultural identity. And, of course, in Ghana, these civic markers are still very relevant, as much as they are in most other places on the African continent, itself, and in the diaspora as well, to be certain. For example, is the surname of the writer who wrote and published the "Open Letter to the Minister for Education" (Modernghana.com 8/20/19) "Cornelius" or "Dogmalkuu"? It is not immediately clear to the reader. You see, there are conventional rules for how an educated person writes or signs his/her name at the top of official writings like academic essays and even on general-reader-focused letters to the editor of either a newspaper or a media portal, these days. And this is precisely where my problem with the writer, who prides himself in being an "officially disrespected Ghanaian schoolteacher" began.
You see, I have received a quite remarkable number of electronic mail(s) from readers who claimed to have found some of my regular media columns extremely difficult to read. But I know very well that in most of the cases that some of these readers complained about – oftentimes bitterly so – that the real problem was lack of good comprehension skills; in sum, the problem was coming from their end and not my end of the communication spectrum. I know this for a fact because I have received awards for both my poetry and my prose writings since my undergraduate days at the City College of New York of the City University of New York. And almost invariably, the reasons given by the judges of those literary competitions in which I entered my writing and/or literary artefacts was that I wrote much better, if not exceptionally better, than the average undergraduate or college-educated writer. But this is none the least bit the sort of compliment that gets me swollen-headed or is even half-capable of doing so.
I also know quite well that on most days, I am a very good and a very effective communicator, which means that the overwhelming bulk of the complaints that I receive from some of my readers almost invariably has to do with the poor reading and critical-thinking skills of these writers themselves. And at the risk of sounding crassly insensitive and downright condescending or even arrogant and pompous, I choose not to make the problems of these readers my primary or utmost concern. My primary concern are the subjects on which I choose to focus my attention and write about and have the same published on a regular basis. You see, the problem with extremely bad writing is that it leaves the reader struggling to make meaning out of the patent cipher that has been presented before him/her. As I presently see it, the problem with the country's education system, especially at the elementary and secondary levels, is that there are too many teachers who are union-entrenched in the system who scandalously lack good basic-writing skills.
Which means that they cannot communicate effectively. Dear Reader, kindly read the following paragraph written by Mr. Cornelius K Dogmalkuu, in which the writer self-righteously presumes to lambaste Dr. Matthew Opoku-Prempeh, the Minister of Education, for shabbily treating teachers by allegedly pushing them around whichever way pleases him and tell me precisely whatever meaningful message you, the Dear Reader, can gather from the same: "Well, the value of an idea is measured by the consequences it produces when translated into action. It is remorseful to state that some of the leaders of Ghana are inebriated with arrogance permeated with righteous indignation that is permeated by pretentious intellectuality propped up by parlous moral authority. They glorify and trespass in negativity amidst heavy salaries and allowances for no work done[,] yet they blackmail the civil servant[,] the teachers and other industrious workers and deny them what is due them. This country id moving nowhere."
If Ghana is, indeed, moving nowhere, as Mr. Dogmalkuu K Cornelius so bitterly and sarcastically predicts, it is definitely because there are too many poorly prepared and professionally dislocated teachers like him in our public-school system, and not because hardworking, patriotic and visionary ministerial appointees like Dr. Opoku-Prempeh appear to be too arrogant and morally self-righteous for their own good. I could quote here and parse up several more rhetorically embarrassing paragraphs from the same column written by Mr. "Cornelius" – I am here assuming the latter to be his surname – but, of course, I strongly suspect the one already quoted above more than amply clarifies the thrust of my argument. I could also write and publish a 10-part series on this one column alone, but that would unfairly be tantamount to killing the proverbial mosquito or skeeter with a sledgehammer. And which uncharitable SOB wants to do such a shameful or inexcusably cruel thing?
I can also see why the author of the "Open Letter" to the Education Minister would have the do-nothing fee-free SHS "progressivists" Mahama Posse return to Jubilee House come January 2021. Good for you, Mr. Cornelius! But the real fact of the matter is the following question: Would the abominable return to Jubilee House of the Mahama Posse be good for the rest of us and our children and grandchildren? You just think about it.
*Visit my blog at: kwameokoampaahoofe.wordpress.com Ghanaffairs
By Kwame Okoampa-Ahoofe, Jr., PhD
English Department, SUNY-Nassau
Garden City, New York
August 20, 2019
E-mail: [email protected]