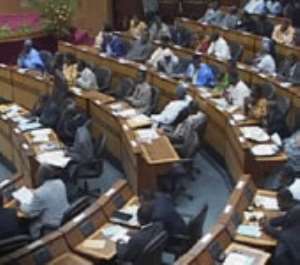 It took me quite a while before deciding to read the news article captioned "Accept My Terms or Forget It – A-Plus to NPP" (Ghanaweb.com 8/17/!9). it took me quite a while because I had decided quite a while back that Mr. Kwame Asare Obeng (aka A-Plus) had made a complete and patent nuisance of himself with his intemperate diarrheal effusions and abject disregard for rationality and the civilized rules of decorous engagement with members and leaders of the New Patriotic Party (NPP), which was taking a heavy toll on the image, reputation and the credibility and popularity of the Akufo-Addo-led government. But there is a catch here, which is that A-Plus has been widely credited with significantly contributing to the seismic rise to power of the hitherto opposition New Patriotic Party in the area of musical propaganda.
On the preceding count, therefore, A-Plus is very much like his far better known and politically more experienced, albeit equally rambunctious, mentor and media mogul, to wit, Mr. Kennedy Ohene Agyapong. Like his garrulous and quarrelsome mentor, as well, Mr. Asare Obeng was fast beginning to feel inadvisably bigger than the New Patriotic Party and, obviously, much too self-centered, commercially speaking, for his own good. Well, for his part, I really don't see the NPP's Member of Parliament for Assin-Central, in the Central Region, ever changing his free-falling political tack anytime soon. Perhaps never in this lifetime; for, as the jaded maxim goes: "You can't teach an old horse new tricks." And an old horse, Mr. Kennedy Ohene Agyapong surely is. It is also quite obvious that the proprietor of the Ken City Communications Network has, somewhat, come to terms with the fact that he needs to tone his reckless rhetoric down a bit, if he is not to lose his relevance as a well-needed double-edged vanguard party "whip" or radical revolutionary, even if his brand of radicalism wistfully lacks the requisite inviolable conscientiousness. Needless to say, every major political party or establishment needs at least one Kennedy Agyapong to put that party's agenda and its leadership studiously focused and mindful of its obligations and its progressive policy initiatives, in the case of the ruling New Patriotic Party.
I haven't, in the case of A-Plus, quite made up my mind yet. But not very long ago, I was flipping through my TV's channels when I came across this young man in a talk forum and quickly arrived at the quite credible conclusion that the popular Hip-Life artist was genuinely struggling with some serious and very significant political concerns and issues that I was quite certain the leadership of the NPP would do better to pay heed to and at least make a serious attempt to promptly deal with. Mr. Obeng seemed to be far more principled in the expression of his concerns and pronouncements than he might have been made out to be by a largely sensationalistic Ghanaian media establishment. In the current-affairs forum that constitutes the subject of our present discussion, for example, Mr. Obeng raised some questions about the wasteful quadrennial boondoggle payout of ex-gratia bonuses to our parliamentarians whose job performance has been anything but progressive and conscientious towards the salutary facilitation of our national development agenda.
I was also intrigued by him raising the inescapable fact that ideology and political partisanship may be unduly and unhealthily getting in the way of our national unity and progress. As a striking case in point, A-Plus raised the issue of the firing of Dr. Felix Anyaa, the then Chief Executive Officer of the country's oldest and biggest hospital, the Korle-Bu Teaching Hospital, who, according to Mr. Obeng, was studiously and indefatigably executing his professional mandate, oftentimes at his own financial expense, as well as voluntarily not receiving any official salary, and yet was rudely sacked by operatives of the Akufo-Addo Administration. To be frank with the Dear Reader and Mr. Obeng himself, I couldn't care less what else Dr. Anyaa was known to be doing for patients at Korle-Bu out of his own pocket, for there are at least two sides to issues of this nature that the rest of us, members of the general public, need to be apprised of in order to be able to make fair and balanced decisions. Nevertheless, I sincerely think that issues like the Anyaa Debacle need to be afforded another hearing or serious review.
But, of course, I also firmly believe that where what is at stake has to do with governance principles, then there ought to, perforce, be absolutely no room for compromise, if this will mean the appeasement or massaging of the ego or the parochial interest of any individual party operative. I also don't know, and really don't give a hoot, about this phantom demand for a 20-year Development Plan that A-Plus allegedly wants to foist on the leadership of the NPP. I don't even know that such long-term plan is feasible in our technologically fast-paced world of the most unpredictable and totally unknown. But this proposition could still be given a charitable hearing, if also because it may contain some worthwhile development ideas that could facilitate the present mode of governance in the country.
As for the demand by Mr. Obeng for the drafting of a New Constitution – I presume he is referring to the New Patriotic Party, of course – that, too, depends on the procedure currently set in place for going about the execution of the same. In other words, just because one individual party member or operative, however significant or indispensable to the political culture of the party, wants to have a new constitution drafted and promulgated, for whatever reasons, does not mean that the rest of the party's stalwarts must oblige at all costs. What is important to observe here is the fact that the young man seems to be at least reasonable enough to be willing to sit down with the party's leadership to jaw it up. Nothing will be lost in giving Mr. Asare Obeng's grievances some hearing and a progressive desire to at least meet him halfway on some of them, especially where such approach may seem to be worth the engagement. Left to me alone, of course, if he proves to be simply uncooperative or incorrigible, the sooner a parting-of-the-ways ticket is issued him, with "a visa," of course, the better it would be for all of us in the leadup to the fast approach of our election year.
*Visit my blog at: kwameokoampaahoofe.wordpress.com Ghanaffairs
By Kwame Okoampa-Ahoofe, Jr., PhD
English Department, SUNY-Nassau
Garden City, New York
August 17, 2019
E-mail: [email protected]