The Neo Black Movement (NBM) of Africa Ghana Zone has organized a walk to joined their voice to the society on the condemnation of recent criminal acts in Africa especially Ghana.
According to Mr. Mark Oro Ejerua, Head NBM Ghana zone, these Acts like kidnapping, rape, terrorism and inequality justice are the hindrance to Africa's development.
"These acts are Africa's major problem which the youth and civilians should not practice", he said.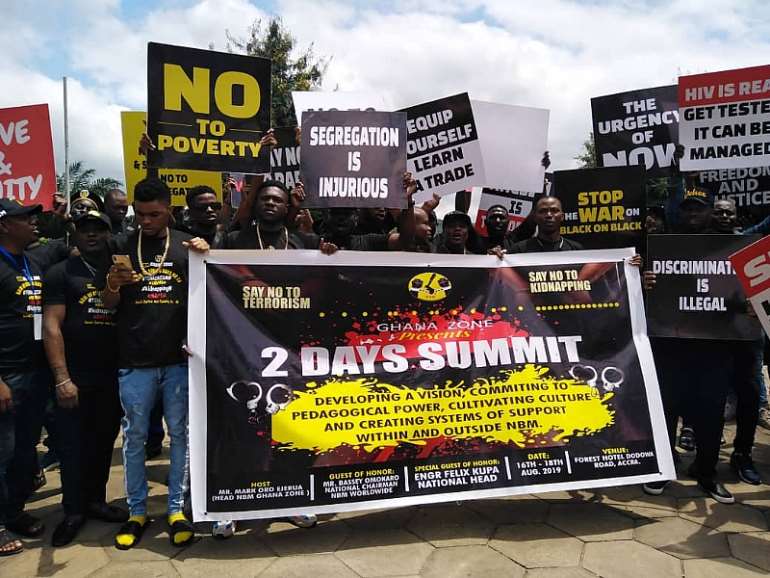 Reacting to how Nigerians are tagged as terrorists in some part of the world, he said " like I always say even in churches we have the good, the bad and the ugly. we have a lot of Nigerians in the diaspora are law-abiding citizens, as a group, we encourage them to continue to live by the law and work hard and be good citizens where ever they are" he further said.
"As an Organisation, we all abhor crimes, frown on antisocial and deviant behaviours that pose danger to the safety and preservation of life and property," he added.
He then appealed to all concerned, Ghanaians and Nigerians alike to be circumspect in their actions resulting from the ongoing crimes, so as not to adversely affect the special relationship between the two countries which has been of immense benefit to both.
He added that NBM as organisation will continue to educate Nigerians living in the diaspora should live in peace and be free from crime.
The walk was part of 2 days summit held at forest hotel, Dodowa dubbed " developing a vision, committing to pedagogical power, cultivating culture and creating a system of support within and outside NBM".
The NBM of Africa is a legally registered nonprofit organization in the FGN under the purview of the Corporate Affairs Commission, to fight for equality and social justice for all.
With an estimated global membership of about thirty thousand (30,000) professionals of diverse backgrounds.
The premise on which the NBM of Africa was formed was intrinsical to check and balance the seeming nuances of inequalities and social injustices that are prevalent with the human race.